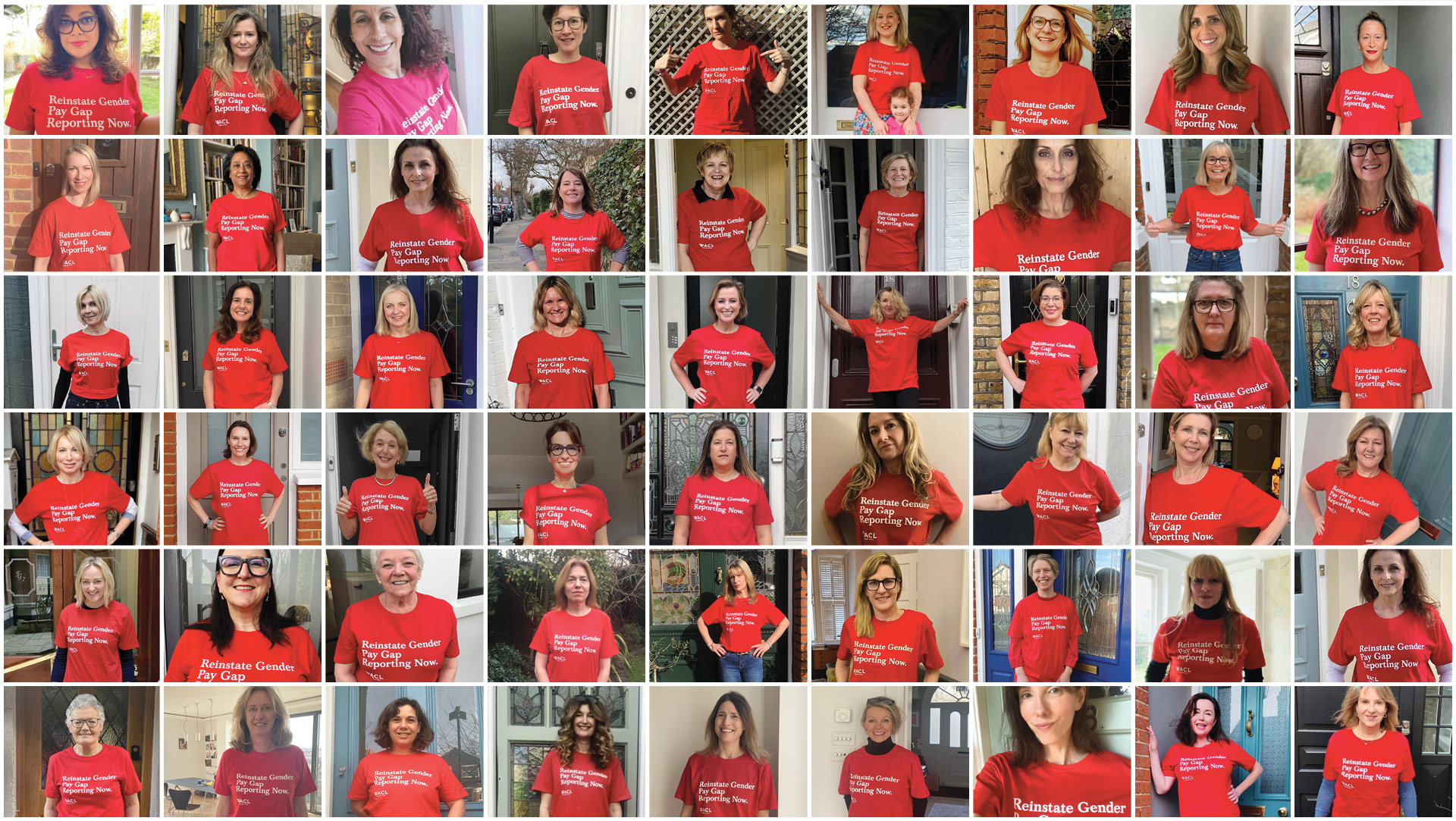 Reinstating Gender Pay Gap Reporting (and why it's important)
WACL launched a successful campaign in early 2021 calling on the UK government to reinstate Gender Pay Gap reporting. The campaign continues, calling for mandatory action plans and more rigorous controls on reporting.
Following the suspension of Gender Pay Gap reporting, WACL campaigned to have mandatory reporting reinstated for 2019/20 and 2020/21 reinstated for April 2021. GPG reporting is a proven tool in accelerating gender equality. The UK government's decision to put mandatory Gender Pay Gap reporting under review for a second year posed a significant threat to the progress for all women that so many have fought for over decades.
Why campaign on gender pay gap reporting?
Decades of work to close the gender pay gap was at stake if this flagship report was shelved. No measurement means no management, and losing this essential focus risked reducing essential workplace initiatives needed to close both pay & role gaps, further entrenching existing gender inequality in our economy.
In line with WACL's core purpose of accelerating gender equality, we felt compelled to act. Alongside a WACL change.org petition, the campaign included social media & outdoor advertising campaign, video call backgrounds to download plus a joint statement signed by WACL President, Jackie Stevenson. The campaign saw WACL join forces with our partners Fawcett Society, Chartered Management Institute and others calling on the UK government to reinstate Gender Pay Gap reporting.
We were disappointed that the Government chose to suspend, rather than delay, gender pay gap reporting and enforcement for this year. Given the high number of women who have been furloughed or worked reduced hours due to caring responsibilities, and the evidence of continuing gender inequality in other areas, this should have been a time for more – not less – transparency.
The proven impact of GPG reporting
GPG reporting works. The evidence tells us that having a strategy in place to improve a company's GPG galvanised by mandatory GPG reporting, can improve overall company performance, and helps deliver against vital talent and diversity & inclusion strategies.
In 2006, Denmark required companies to publish their gender wage gap. A study of the impact of the legislation found that it reduced the gender pay gap by 2% 1. The study also found that the legislation did not affect firm profitability, likely because it led to increased productivity.
A recent study of the introduction of mandatory gender pay gap reporting in the UK found that it has narrowed the gap between men and women because of a 3% decrease in men's hourly pay which resulted in a 5% increase in the probability of women earning above-median wages. The study also found evidence that the reporting resulted in occupations with higher gender pay gaps demonstrating more women-friendly hiring practices.2
The Government Equalities Office (GEO) surveyed 900 employers who did gender pay gap reporting in 2019. The majority believed that mandatory gender pay gap reporting provided a platform for increased focus on wider equality and diversity within their organisation . Seven in ten said it has increased awareness of gender pay issues within the workplace.3
Closing the gap is good for business
Equality is good for our country and our economy and research proves time and again that it makes good business sense. Research by McKinsey demonstrates that tackling gender inequality in the workforce overall is a vital issue for productivity. They estimate a £150bn benefit to UK GDP if the performance of every region on gender equality in the workplace was raised to that of the best. The gender pay gap is in most part driven by a lack of women at the top of organisations. What's more, research from across the private sector routinely demonstrates that more diverse teams, including teams with a more even share of women, perform more effectively than homongeneous teams. Witness research and design teams in Spain, which are more innovative with women members, to senior management boards across the UK and North and South America, which are more likely to grow if they are gender-diverse.
The negative impact of COVID on gender equality
Devastatingly, the Covid pandemic has eroded many hard-won gains for women in the workplace which makes the need for GPG reporting and strategies even greater. The pandemic has disproportionately affected women in the workplace with research showing that women are more likely to work in shut-down sectors, are at greater risk of job losses and are taking on the majority of housework and childcare. GPG data has repeatedly shown that there are still far too few women progressing into senior management and leadership positions. Furthermore, McKinsey research has identified that the pressures of the pandemic are driving some women to consider scaling back or leaving their careers. It's crucial for organisations to better support, retain and promote women; this begins with analysing their pay data and developing quality action plans with employees.
What comes next? The need for mandatory Ethnicity and Disability Pay Gap reporting
WACL were proud to be amongst the powerful voices that impacted government policy, resulting in a new deadline for gender pay gap reporting last year (October 4th, 2021). And yet there is still more work to be done. WACL shares the Equality & Human Rights Commission's view that "pay gaps reflect broader inequalities in society and tackling them is an important way to achieve a fairer society." It is therefore vital employers are held accountable for reporting their Ethnicity and Disability Pay Paps, alongside their Gender Pay Gap.
We're delighted by the EHRC news that mandatory GPG reporting will be reinstated and we look forward to no further delay and the good news that ethnicity & disability pay gap reports will be coming next. Diversity is good for business and must be more front of mind as the economy opens up and we build back better.
In light of the disproportionate impact lockdown and the UK's pandemic policy response has had on working women, particularly Black, Asian, minority Ethnic and Disabled women, it has never been more important to challenge and support businesses in reporting their GPG and to encourage everyone to have a robust strategy for addressing the Gender Pay Gap.
The Equality and Human Rights Commission has also committed to introducing ethnicity and disability pay gap reporting as soon as possible.

________
Bennedsen, M., Simintzi, E., Tsoutsoura, M., & Wolfenzon, D. (2020)
'Do firms respond to gender pay gap transparency?'
National Bureau of Economic Research, Working Paper 25435
Duchini, E., Simion, S, Turell, A. (2020).
'Pay transparency and cracks in the glass ceiling'
Cornell University

Murray, J., Rieger, P., and Gorry, H. (2020)
'Employers' understanding of the gender pay gap and actions to tackle it:
Research report on the 2019 survey, Government Equalities Office.