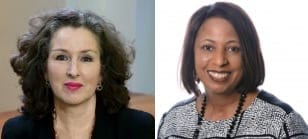 For our first WACL NED Talk of 2018, we are thrilled to have Andrea Gregory from People Business, one of UK's most prominent Board Assessment expert for PE-backed directors, paired with our very own MT Rainey OBE, portfolio Chair & NED. Many of us often wonder what does it take to make a board be effective in their endeavour, what are the secrets of the Non-Exec Director assessment process, how can we learn about the published process, the real process and how to succeed at the various assessment activities? With these questions in mind, the theme for our January NED talk will be "Board Assessments and effectiveness" and our speakers will be sharing their points of view, top tips, experience and engage in a lively discussion. The lunch event will be hosted by the lovely Nina Jasinski at Ogilvy & Mather, Sea Container, 18 Upper Ground, London, SE1 9RQ on the 11 January 2018 between 12:15 and 14:00 (closest Tube station is Blackfriars).
A light lunch will be provided
This is a members-only event and free of charge, capacity for the room is 20 people so please let Francesca know soonest on Francesca@Ecsery.com if you would like us to reserve you a seat.
Speaker Biographies
MT Rainey OBE
Deputy Chair of Channel 4 & Portfolio NED
MT Rainey is Deputy Chair of Channel 4, a Non Executive Director of Hays plc and a Director of Charlotte Street Partners. She is also Vice Chair of Creative Skillset, the Sector Skills Council for the Creative Industries, Co-Chair of the Development Board for WW1 Centenary arts commissioning body 14-18Now and a Board member of Glasgow School of Art Development Trust. She was recently a Non Executive Director of AIM listed Pinewood Group until the Board took it private at the end of 2015. In the past she has served as a Non Executive Director with WH Smith and with STV.
Her executive career was spent in advertising, both in the UK and the US. MT was founder and CEO of top UK advertising agency Rainey Kelly Campbell Roalfe/Y&R which is now part of the WPP group and before that spent 8 years in the U.S. as Planning Director at Chiat/Day working with Apple and other first generation Silicon Valley companies. She was Chair of digital strategy agency Think Ltd from 2008 to 2015 and remains a shareholder. In 2008 she launched social enterprise horsesmouth.co.uk which is a safe online network for informal mentoring, now with over 100,000 members.
She is a former President of The Thirty Club of London, a former Chair of the Marketing Group of Great Britain and is a regular speaker on communications, media and digital issues. She was recently honoured with an OBE for services to Advertising in the 2015 Queen's Birthday Honours List.
Andrea Gregory
Founder, People Business
Enabling people to give of their best in organisations has been Andrea's passion for the last 15 years working with a host of clients in the retail, e-commerce, travel, media, energy, and healthcare and not for profit sectors. Andrea believes that enabling people is the most effective way of improving the performance of organisations so that they consistently deliver business objectives. Inspired people, with a clear sense of what must be done, can deliver extraordinary results. With an M.B.A. and significant experience of the essential HR disciplines, Andrea achieves a healthy mix of innovation and pragmatism.

Over the last 10 years, Andrea has provided strategic HR advice to a leading European private equity firm developing their own people practices and that of their portfolio companies. This work has involved hiring, developing, coaching and, on occasion, exiting Board executives and leadership teams and advising HR teams on how best to develop their people practices to support business growth. Andrea counts investment banks Morgan Stanley and Credit Suisse as clients who have benefited from her strategic but pragmatic approach to solving complex people issues.
Andrea is frequently called upon to advise on HR strategy, improve the effectiveness of HR teams and functions, improve recruitment processes including developing competencies – identifying the appropriate skills knowledge and attitudes required for superior job performance, designing assessment and development processes, training assessors and interviewers in fair selection methods, training HR teams, advising organisations on the best use of psychometrics as part of the recruitment process and executive assessment. Andrea has carried outboard assessments, coaches CEOs and MDs and has led the people to work streams for mergers and acquisitions.
Andrea was for 6 years a lay panel member for the Ministry of Justice responsible for the selection (shortlisting, interviewing and assessment) of judges and spent five years as a non-executive board member for the Highways Agency (HA) and eight years as a board member for a national housing association serving on the audit committee for both organisations and chairing a strategic group on people and change for the HA.
Key insights from this session
Key Takeouts from the WACL NED session on 11 January 2018 at Ogilvy UK. Speakers:
Further to Francesca's introduction of our guests, and our "twitter feed" round table introduction of ourselves, our session got down to business with Andrea opening on the topic of just what do Private Equity firms look for when appointing Non-Executive Directors to their Boards, and just what the interview and selection process includes.  Andrea has very kindly shared her slides with us so I have highlighted the key areas we discussed but please do refer to the slides for more detail. Andrea Gregory opened by referring to the change she is seeing in Private Equity firms starting to be in a more positive space with regards to how they consider their investments, how they treat people and ultimately recognising that they need to be in the place of "creating value" and improving business.  The days of cutting costs to drive returns, hostile take-overs and hot-housing investments are dwindling, but nevertheless the industry remains highly incestuous and very connected – and worth considering who you choose to work with and thinking hard about the value that you can bring relative to the focus of the firms concerned.Personal relationships and contacts are key and it is worthwhile trying to extend your network both into the PE firms, and with the headhunters that serve them who are often gate-keepers.  There are a number of headhunters that specifically focus on this space, Skill Capital is one, Erevena another and there are several more (please do share if you know of any others) as well as a number of the PE firms themselves now also having their own "talent managers" that are responsible for seeking out a wide network of potential NED's and Chairman.Having found these people (or they have found you) the interview process can be quite extensive.  Many firms will use external experts in people assessment to help them determine the right skills match, and they are likely to do extensive referencing.  It is worthwhile checking in with them how those references have gone so that you can add context to the feedback, and to also put into context for them how you know the referee and the manner of the work that you performed together so that they do not over or under-estimate their feedback.  A variety of testing components could be used – again Andrea references these in her slides – but worth asking what they are looking for, how the tests work and be aware that a number of them are specifically looking for what is called "the dark side" – what are those things/circumstances/situations that are likely to derail you? They do want more women in their businesses, it is generally speaking a good time for female talent, but it is important that we recognise what they are looking for and to present ourselves relative to that.In Andrea's slide deck it is worth referring to the Investor Mindset slide – they are looking for:
Sector Experience
Emotional Intelligence
Intellectual Capability
It is worthwhile assessing your own skill set to determine which category you excel in and do you bring narrow/deep sector knowledge or broad/general mgmt or Chairmanship talent?   They are also looking for people who think "value creation" first.  It is very important to them that you understand the focus on return on the investment, normally at 3+ times at least, and that tolerance for non-performance will be low, both of those around the Board table and of the executives in the business.  Your ability to understand the financial performance of the business is also paramount, and to understand the specific metrics that they care about – certainly revenue/EBITDA – and how the business is running, how it is financed (leveraged) and any areas that might create issues such as gearing or compliance with Banking Covenants. MT Rainey, in her discussion with the group, picked up a number of these themes too as she spoke about her NED career and some of the challenges that she faced – specifically in being "heard" around the Board table and in getting key things that she felt were important to the growth agenda for organisations taken seriously around the Board table.  Perhaps the best example of this was WH Smith where MT could clearly see the emergence and potentially rapid growth/cannibalisation of online retailing significantly earlier than her Board colleagues.  And yet, it took almost the whole length of her tenure on the Board (6 years) to get this to be taken seriously and ultimately only a change in Chairman and CEO enabled significant traction on this point to be made.This theme of challenging environments (within which to drive change and deliver value) was also picked up and impacted by the amount of change that happened in a number of the businesses in which MT participated, but certainly is more acute in Plc Boards.  In her first year at WH Smith they had a de-merger of operations, they de-listed from the main market and then re-listed (the amount of paperwork and diligence in doing this is not to be underestimated!) they sold their publications business, closed their USA business operations, settled a lawsuit and ultimately ended up with a new Chairman and CEO.  For those Board members that is an extensive amount of work and risk and MT's advice for those who would seek out such a role would be to get a Coach/Mentor when you arrive on the Board to help you.  Specifically how the Boardroom works, to aid in terminology, to help you understand the financials and if necessary, some financial training to help you understand Corporate Finance and Corporate Structures if this is not experience that you have had.  Many companies do offer Induction Processes these days, but it is still too often incumbent on the incoming person to push for what they think they need, in addition perhaps to what the Company thinks they need.  And, many Boards are now looking for examples of how they are continuing to support the learning and development of their Boards, and so it is very often an opportunity for a new NED to ask for this – perhaps the FT NED Diploma or some financial training to support them.  In short, we shouldn't be afraid to ask for help, and as Directors we also hold fiduciary responsibility, so frankly it is critical that you feel informed and satisfied that you understand all that you are being asked to contribute to or make a judgement on.MT concluded by sharing with us her top list of what she feels Boards are pre-occupied with currently.  Many of these issues will undoubtedly be coming to a Board table discussion near you soon!  They include:
Digital transformation and pre-occupation with all things digital
Cyber security
Brexit
People/succession planning
Diversity/gender pay gap
GDPR
IFRS reporting changes and requirements
Executive pay and shareholder activism
Risk
Long term strategy and planning
Culture
Finally, what do you need to be successful? In MT's experience, 3 things:
Expertise
Experience
Energy
Curiosity/questioning skills – an ability to continue to seek for understanding and to continue to question the answers too.
We would like to thank all the attendees and our guest speakers for a very informative session.