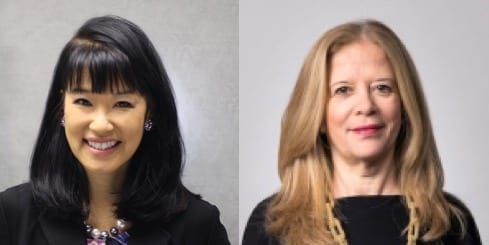 Dear all
As we come to the end of our NED programme for this year we are aiming to go out on a high, with a topic close to all our hearts and two fantastic speakers!
Please join us in June to take a critical look at the current 'Board Diversity Landscape' when we will be taking stock of the situation with the benefit of two speakers who are superbly well placed to know what's really going on.
In July 2016 the Chair of the Government-backed Women on Boards Review, Sir Philip Hampton, admitted that the proportion of new board appointments going to women had fallen to a five-year low. Between September 2015 and March 2016, only 24.6 per cent of new board roles had gone to women, which was the lowest proportion since 2011. Mr Alexander said that the improvements to gender diversity on boards so far, which have seen a limited number of women appointed to [significant] positions, might be seen by critics as "lip service, rather than great strides".
To share their insights on the latest Hampton Alexander report and other relevant research findings, as well as their own experiences of the various initiatives that have or have not worked in the pursuit of a greater gender balance in the Boardroom we will be joined by Melanie Richards, Deputy Chairman of KPMG and a founder member of the 30% Club Steering Committee and Su-Mei Thompson, CEO of Media Trust, the leading communications charity, and previously CEO of The Women's Foundation, an NGO dedicated to the advancement of women and girls in Hong Kong. Su-Mei is also a founder member of the 30% club, Hong Kong.
The 30% Club was established in the UK in 2010 and in Hong Kong in 2013. Their stated aim is to collaborate with businesses, governments and other campaigns to improve gender diversity and accelerate the pace of change from schoolroom to boardroom.
Our lunch event is kindly being hosted by Melanie Richards at the wonderful KPMG Client Suite, on the 13th of June 2018 between 12:15 and 14:00. The venue is located on 20 Grosvenor Street, London W1K 4QJ (closest Tube stations : Bond Street). A light lunch will be provided
This is a members-only event and free of charge, capacity for the room is currently 20 people so please let Francesca know soonest on [email protected] if you would like us to reserve you a seat.
Speaker Biographies
Melanie Richards
Deputy Chair and Board Member, KPMG UK
Melanie joined KPMG in 2000 to develop the Debt Advisory practice and has more than 30 years of banking experience in bank lending, debt restructuring and capital markets' instruments.
Melanie was appointed to the KPMG UK Board in 2012 and became Vice Chair in October 2014. Following a leadership transition in 2017, Melanie assumed the role of Deputy Chair and now works with the Chairman and Board in setting KPMG's strategic direction and determining major policy positions.
As Deputy Chair Melanie oversees the stewardship of KPMG and brings the voice of the client to the heart of KPMG's strategic decisions. She leads KPMG's Vice-Chairs who represent KPMG's external voice in the market and works alongside our highest-profile clients and key stakeholders, including regulators, industry bodies and the media.
Melanie is a passionate champion of diversity and is a recognised voice on the issue of gender equality. She is a founding member of the 30% Club Steering Committee, a pioneering campaign focused on increasing female representation in FTSE Boards and Leadership.
She is the executive sponsor of the Hampton Alexander Review with the aim of increasing the number of female executives at Britain's 350 biggest public companies.
In September 2017 Melanie was named #1 in the FT's Female Champion of Women in Business list.
In June 2016, Oxford Brookes University awarded Melanie an Honorary Doctorate in Business Administration for her many achievements in business and her active promotion of gender equality.
In 2014 she joined the Harvard Women's Leadership Board.
Melanie is Vice Chair of The Eve Appeal, which funds research into developing effective prediction and detection of gynaecological cancers and is a governor of Eastbourne College.
Melanie is a long standing supporter and Vice Chair of Trustees of The Eve Appeal, the only charity in the UK devoted to raising awareness and funds for all five gynaecological cancers. During this month the charity is running a significant awareness campaign and this month are linking up with retailers and brands to raise funds towards their ground-breaking research. You can find more information about the campaign on https://eveappeal.org.uk/supporting-us/take-part-in-an-event/get-lippy/.
Su-Mei Thompson
Chief Executive of Media Trust
Su-Mei Thompson is Chief Executive of Media Trust, which channels the creativity and skills of the media and creative industries to help charities, marginalised communities and young people have a stronger voice.
From 2009-2017, Su-Mei was CEO of The Women's Foundation, an NGO dedicated to the advancement of women and girls. She also served on the Equal Opportunities Commission in Hong Kong from 2012-2017. In 2013, she founded the 30% Club Hong Kong.
An alumnus of Cambridge, Oxford and IMD, Su-Mei started her career as a corporate finance lawyer at Linklaters and has held senior management positions at The Walt Disney Company, the Financial Times and Christie's Asia.
Su-Mei's TED talk from 2015 "Dying To Be Thin" (https://www.youtube.com/watch?v=9QHL6IwY0HA) has attracted almost 100,000 views. Su-Mei was a Judge for Campaign Asia's Women Leading Change Awards 2017 and served as a Jury Member for the Cannes Glass Lions Awards 2016. She was the recipient of Public Affairs Asia's 2016 Communicator of the Year Gold Standard Award. She has also been recognised as one of Hong Kong's 100 Most Influential People by Debrett's and the South China Morning Post.
Su-Mei has served on a range of for profit and non profit boards. She is a former NED of NASDAQ-listed China Cablecom and HKEX-listed Natural Beauty Bio-technology Limited. She also served on the board of Save the Children Hong Kong. She is currently a Council member of Cheltenham Ladies College, her alma mater, and a Board member of Opera Hong Kong, and she joined the Orwell Foundation's board of trustees in May 2018.