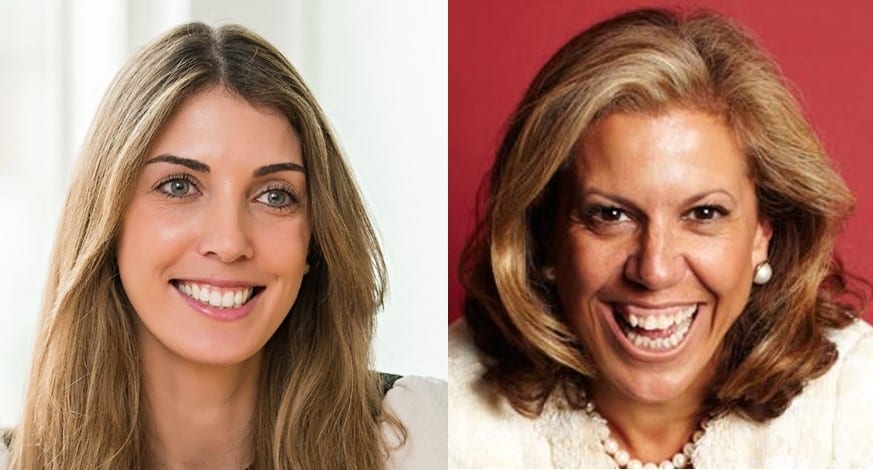 Rumour has it that working on a Private Equity-backed board is more rewarding than a listed company board because:
You can have more of an influence on the outcomes of the business
You get more money
There are very few women on those boards
Once you have one, you may have a better chance to sit on another
The theme of our next WACL NED Lunch is all about 'Getting a NED in a Private Equity backed business' and it is our great pleasure at WACL to welcome our very own Stevie Springs and Filipa Moreira from DirectorBank – a head hunting company in the Private Equity space – to join us on Friday the 24th of April 2015 from 12:15 to 14:00 and find out for ourselves if these rumours are true . The lunch will be hosted by Dentsu Aegis :  1st floor of 10 Triton Street, Regent's Place, NW1 3BF (closest tube station Great Portland Street) .
Speaker Biographies
Filipa Moreira
Head of Consumer & Retail – DirectorBank
Filipa has more than eight years' experience in executive search, and has managed assignments in the UK, US and Brazil. She joined Directorbank from an international executive search firm that specialises in board level searches. Prior to that, Filipa worked for two executive search companies in Brazil as a search consultant. Fluent in English, Spanish and Portuguese her early career was spent working in recruitment in Portugal. Filipa currently heads Directorbank's Consumer Practice, supporting a large number of investment professionals throughout the investment cycle with executive search solutions, pre-deal recruitment support and networking events.
Stevie Spring
Portfolio NED & Chairman of ITG
Joined the Club in 1989. President 1994/5. Made an honorary member in 2007. Stevie graduated in law and worked in both marketing and breakfast television before starting a 16-year career in advertising agency management. She left adland in 1999 to be UK Chief Executive of Clear Channel, the world's largest out of home media company.
From June 2006 to November 2011 she was CEO of Future plc – one of the few women to run a fully listed public company – where she led the company's restructure and digital transformation.
She is now a portfolio director, investor and adviser. She currently Chairs the ITG Group for Bridgepoint Capital ; Chairs Children in Need for the BBC; is Senior independent director of ALCS; an angel investor and advisory Board Chair to two technology businesses; on the Council of Kent's International University and an adviser to Metdist.
Prior to Chairing Children in Need , she served three terms as Chairman of The Groundwork Federation, and was Audit Chair for Arts and Business.
She is a Fellow of both the Institute of Practitioners in Advertising and of the Marketing Society, and holds an honorary doctorate for services to business.
She was named in November's GQ magazine as one of the UK's 100 most connected women and is on Debretts 2015 list of Britain's 500 most influential people.
Key insights from this session
Filipa Moreira
Filipa enlightened us on the requirements Recruiters have when looking for NEDs for PE companies.
Her key points were as follows:
PE companies look for candidates who can act as growth facilitators-their prime interest being in maximising growth potential
They therefore want people who have relevant experience ie in acquisition/ international expansion/managing exits/strategy development
Their 3 key requirements are merit/sector experience/skills
They compile their lists on 1) the basis of people they know already, 2) recommendations, 3)a formal search
Diversity of experience can be an advantage: very few PE companies have people with marketing knowledge /understanding of customers/ broad perspective
However, they tend to be 'boys' clubs', so you need to 'learn the language' and network in order to be able to compete
It is important to know what you have, specifically to offer the business they are recruiting for in order for them to notice you – individual impact is crucial
One tip : 'Be visible'
Stevie Spring 
Stevie Spring has sat on many boards, including those of several PE companies. She was keen to emphasise that every board is different. The particular nature of PE boards is that they are action orientated, looking for change, risk-orientated, prepared to try new approaches, and thus attract candidates who are looking for excitement.
Her key points were as follows:
Know your own capacity: there is no possibility of getting a NED in a PE company whilst you have a fulltime exec role, as it is too time-consuming and demanding
PE is all about the exit – the 'how much cash' aspect. Therefore, candidates are interviewed on their ability to affect this
PE is very operational. You have a fixed amount of time to get to exit. All the shareholders sit a the have to be very aligned
Sector experience is only of value if it is in something bigger
You need to be seen as a negotiator – right from the interview
PE is exciting, lucrative and different. It is dominated by 'finance boys' who have sat on a lot of boards, but have little knowledge of 'getting things done' so they need people who understand what buttons to push; what questions to ask – these people are a short cut to them not getting things wrong
Marketing is relevant, but more so if you can talk about 'digital', 'social', 'online' ie the cutting-edge
Find ways to present yourself as relevant and emphasise those on your CV
One tip: ' Talk to everyone who wants to talk to you. You meet interesting people and you always learn something'