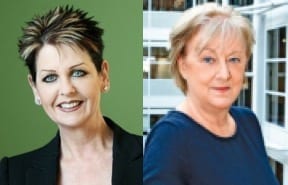 Speaker biographies
Silla Maizey 
Silla serves as Managing Director of Gatwick at British Airways Plc (UK) and serves as its British Airways Plc (UK). Ms. Maizey serves as Chair of the Board of Management at Chartered Institute Of Purchasing And Supply – United Kingdom. Ms. Maizey served as Acting Customer Director at British Airways Plc (UK) since January 1, 2009 and served as its Member of the Management Board. She held an executive career at British Airways, where she had worked in a number of different functions over the years including; Finance, Procurement, Corporate Responsibility and Customer Services. She is Chair of NHS Business Services Authority and Chair and Non-Executive Director of the British Airways Retirement Plan. She has been Non-Executive Director at John Menzies plc since May 19, 2014.
Sheila Mitchell
Sheila, who is responsible for the UK's biggest public sector marketing programme, has had a vintage year. Under her direction its marketing has won more than 40 industry awards (including IPA Gold) in the past 12 months. Mitchell has had a busy time of late. In April 2013, public-health marketing was pulled out of the Department of Health and placed in new executive agency, Public Health England. The move has enabled her to focus more on evidence-based marketing and building closer links with local authorities. Mitchell's year started well, with stunning results coming from her bowel cancer campaign. Against a backdrop of government controls on marketing spend, the fact that her activities continue to receive funding is testament to their effectiveness.
Key insights from this session
Clare Mullin
Parliament isn't government
It wants public to engage as it represents the people
Scottish and Welsh parliaments are further along in this area
Clare is the Women in Parliament program lead
80% of expert witnesses presenting to parliamentary committees are men
Often people approach the committee & say 'I will give you evidence', less likely to be women
Sheila
Marketing skills are of use in a broader context
Marketing is a poorly defined term in the public sector not seen by many as a serious discipline. Its what the private sector does for profit. For some an understanding of social marketing i.e. using the tools and techniques of private and apply to social issues e.g. stop smoking
Marketing often seen as a part of Communications.
Those leading Comms are generally ex journalists, understanding of marketing discipline limited.
Complexity, particularly stakeholder complexity is key element of Government work
Stakeholder universe is huge, many will try to stop & many will aim to support, if you can use stakeholders as leverage.
There is increasing decentralisation of government to local government i.e stop smoking etc.
Marketing money is spent in health, money advice service and the Great campaign
This reflects the focus of the government of the day.
Don't go and say you do marketing, reframe it.
Five big areas of difference
1- Operating in political dimension
must have an eye to policy and politics of the day
Budgets for example can be obliterated if a special advisor makes a specific recommendation
Ministers and Secretary of State make final decisions, Cabinet office veto over spend > £100k
Agile innovation is very difficult in this environment, Ministers come and go every eighteen months so risk averse
The submission argues out business case and must submit with three options
​​​2- Customer thinking to citizen thinking
Move from motivating purchase to shifting long term behaviours, reputation management, driving services and services demand.
Ten / fifteen year horizon for results means sophistication in models, econometrics and complexity of measurements
3- Segmentation
can't only target 'low hanging fruit' but must target everybody often including segments that are the most difficult to engage – lower income, poverty exclusion etc.
Behavioural science and economics, nudge techniques still very current.
4- Stakeholders and partnerships different.
Big plus is its not competitive meaning you can bring lots of people to the table to tackle issues e.g. Aldi, Lidl, Sainsbury's etc. on sugar targeting initiatives
Power to do things to helps the marketing effort so the potential for strategic partnerships huge
Downside is the stakeholder world people are vulnerable in the media
E-cigarettes a good example behind the scenes big difference of opinion on approach to take
5- Innovation and excellence
Careful how you land it – language, framing.
Constructive disruptive insight not very well understood
Connective – who do you know in your network, how can you help – that has appeal
Digital and big data skills skillset sparse in government so these are desirable
Silla:
It was a big step into the unknown
Different to how you imagine it, helps if you can get a NED while you are still working.
Headhunters are important to you but you aren't very important to them
They are doing a tough job so it's hard to build that relationship.
Took two years and twenty one processes to get her first NED.
Your network very important, put yourself out there a bit, it's worth it.
Don't under estimate the importance of having sponsors, chairmen people of influence, CEOs
Headhunters guard their chairmen plus they will ask them 'who have you seen that would be a good non exec'.
Build and communicate your own personal brand one you are comfortable with 100%.
Target business you like, they should have the same values as you.
Be really clear about what you offer
What are you then?
Spent time with a coach working out what is it I really am.
It's a club and getting keys to the door is tough and once through you will have people who are like me. There has to be chemistry.
You have to enjoy the company and respect your peers around the table.
Public and private
Applications are difficult and time consuming
Should go for it because what have you got to lose?
Look at the public sector the people are fab, great people on her board, upping the ante in our business it has made a difference and that what makes it exciting.
Look at public sector opportunities with an open perspective
Doesn't give you flexibility its far more constraining that you think, no one to delegate to, structured disciplined and not classic routine. More time but not necessarily flexibility.
Still hard work but worth it.
Got John Menzies role because had public sector role allowed to demonstrate skills are transferable.
Remuneration – some are, some aren't
Offered chair role before met CEO if that wouldn't work then would have been a nightmare
First part of due diligence rely on your assurances and processes
You only know as much as you are being told or can feel
Most of the effort is managing cost and quality rather than top line in the NHS
Perception of what quality means – term quality gets overused
Important points
Do you trust the people who are running this business? Do your diligence.
Bad form to leave a board at three years really they want you for six
Directors liability insurance ask about this.
The risks are the same.
Is the marketing skill set broad enough?
Strong push for women
Women on boards get onto shortlists more,
But in itself doesn't mean get more appointments.
Corporate governance changed rules have changed, not enough seats at the table for exec i.e. sales directors etc. so need knowledge gaps filled via non-exec i.e. marketing.
Men typically finish their executive career later, women make the change earlier
Do headhunters do public and private? They are split. Saxton Bampflyde most in public sector