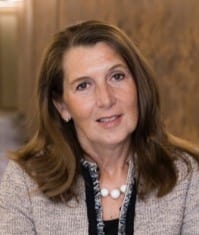 What are the results of the annual Hampton-Alexander Review report 2019? Which businesses are leading the way ? Are any of the UK's top firms are still taking a "one and done" approach to gender diversity by only appointing a token woman to their board?
The next report will be published this November and will detail the progress made towards achieving the 33% target for women on boards and in leadership teams of FTSE 250 companies by 2020.
Denise Wilson OBE, Chief Executive of the Hampton -Alexander Review will be joining us to share the latest insights first hand and highlighting what action still needs to be taken.  This is the session you won't want to miss!
Denise Wilson OBE Biography
Denise is Chief Executive of the Government sponsored Hampton-Alexander Review, formerly the Davies Review for Women on Boards, which leads the national, business-focused task force and voluntary framework for increasing the number of women on FTSE 350 Boards and in leadership positions.
She has recently stepped down from the Board of Ecclesiastical Insurance Group where she served for eight years, chaired the Remuneration Committee and sat on the Audit Committee. She also chaired the Royal Academy of Arts Friends Board for many years and has served on several corporate and charitable boards.
Her executive career began with the Royal & Sun Alliance Insurance Group, before moving into the energy sector where she held senior roles at British Gas and in successor companies, BG Group and Transco post-demerger.
During this time she headed up the Investor Relations and Global Audit functions and at National Grid set up and ran the Shared Services Division, led Commercial, Pricing and Customer Divisions and the Global Transformation program to standardize systems, processes and workplace culture across UK and US operations. She has worked not only in the US but also South America in various energy industry roles.
Denise is also a mentor to business leaders in the corporate and charitable sectors, an influential speaker and advocate for the advancement of diversity in business.
She is a graduate in Modern Languages, qualified FCII and speaks fluent Spanish. Denise was awarded an OBE in the 2016 New Year's Honours list for services to women and equality and an honorary Doctorate of Letters from the University of Hull in 2018.