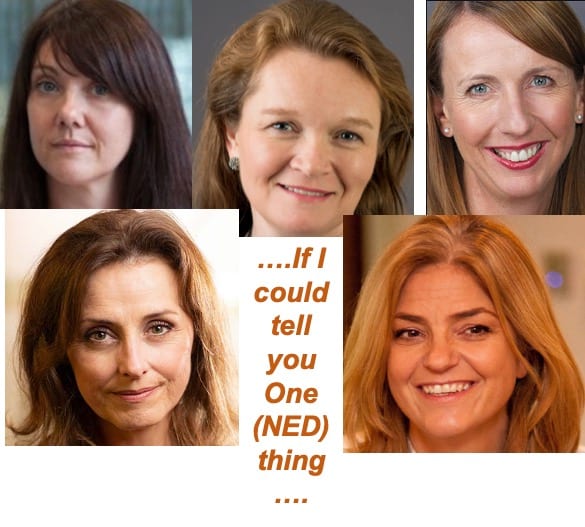 "If I can tell you one NED Thing"? Whether you are interested in listed, unlisted or not for profit organisations, at the start of your journey or mid way through, come along to hear some tips and experiences from fellow WACL-ers. In response to popular demand, this session will provide hands on practical advice to ensure you are considering and optimising every step!
We are extremely fortunate to have highly experienced WACL members, who have a wide breadth of experience across many different boards including Camelot, Virgin Start-Up, Eve Sleep, Untold Stories, timeTo, ABBEY PLC? , Guide dogs for the blind and many more.
They will join us to share their breadth of experience in helping you to unlock that first NED role. We will bring to life each of the key stepping stones, along with helpful hints on how to approach them. Speakers include fellow WACL'ers, Jennelle Tilling, Avril Gallagher, Linda Grant, Kerry Glazer and Nikki Crumpton.
Key Insights
Linda Grant
Find your fit and follow your interests.
Can't join the dots looking forwards only in hindsight.
Follow curiosity and interests. Get in touch proactively with organisations that interest you. It is journey and it will take time.

Jennelle Tilling
Love your Chair – the value of a calm, human approach was appreciated, inspired trust while learning
Trust your CEO – helps you not to get too involved and not let your executive instinct cut in.
Get the right cultural fit – allows you to touch and get involved in the organisation.
Channel your courage – it can be really difficult to be knocked back. Enjoy the journey.

Kerry Glazer
Harder than expected to adjust to a new way of being in a role – advisory versus operational.
Difficult not to let imposter syndrome kick in when you're learning. Not knowing all the ins and outs of a company is really difficult.
Complicated by Covid, opportunities to get to know fellow board members were more limited. Puts you on the back foot.
Get comfortable with the time that it takes to be really valuable.
18 months to be a truly effective NED.
Distance is really a great advantage. The perspective and objectivity can be just as valuable as all of the "doing" in the exec role.

Nicki Crumpton
Find a place to value your own expertise and recognise it's as good as everyone else in the room.
NED recruitment is rife with tokenism.
Do your homework, or do they want you or your diversity profile. Check their commitment to real diversity.
Take a look at previous agendas and see if they take your expertise seriously. Is it important to them?
Get a really great induction. Didn't get enough support in one role and it was really alienating.
Don't need to be the finished article which is difficult for most of us. It's fine to ask.
If you've got school age children – board of local secondary school is a good training ground. A little safer if you know some of the people.

Avril Gallagher
Know why you're there- a fresh pair of eyes, to ask questions. Have a point of view and new ideas. Interested in what you have to offer.
They want you because you don't know the same as your other board members
Be confident you can do what's needed. How you hold the board accountable is different from the rest of the board.
Covid highlighted that governance is really, really important. Understand your responsibilities. Can you trust the people around you? Liability is real. Direction of travel is that it will become more onerous/important for board members.
Don't be frightened to ask about your responsibilities. It's so important.
Speaker biogs
Jenelle Tilling: Portfolio Non Executive Board Advisor
An experienced and award-winning marketing executive with a career spanning over 25 years, Jennelle Tilling most recently served as the Global Chief Marketing Officer for KFC. She was responsible for the company's brand marketing, communications, innovation, digital presence, and brand reputation in over 125 countries around the world. Jennelle has a long track record of driving results within YUM!, having served in leadership roles for KFC, Pizza Hut and Taco Bell. Prior to her global role, Jennelle served as Vice President of Marketing for KFC. Her work earned her an IPA Advertising Effectiveness Gold Award in 2008 and a Silver Award in 2010, a British Arrow for Digital Creativity in 2013, and the 2007 Marketing Society Award for brand revitalization. In 2016, she was awarded one of Business Insiders most innovative global CMOs An active contributor to the marketing industry in the UK, Jennelle is a Fellow of The Marketing Society, a member of MGGB, and was proudly WACL President in 2013/14. Jennelle is the Founder and Chief Brand Strategist at Marketing with Insight; a London based brand consultancy specializing in Retail, Food and Beverage strategy. She also sits on the Board of Camelot, Shaftesbury PLC, Butchies and is a Trustee at The Guide Dogs for The Blind.
Kerry Glazer: Portfolio NED and Chair: AAR, Untold Studios, timeTo
Kerry has worked in the communications agency business for the last three decades, with stints at JWT, WCRS, Limbo (BBH) and Kendall Tarrant (now The Talent Business) during that period. She joined AAR – the leading expert in marketing ecosystems assisting UK, international and global brands to design, build, and drive the performance of their partnerships with agencies – as Commercial Director in 1999, was promoted to Managing Director in 2000 and Chief Executive in 2006, finally moving to the role of Non-Executive Chair of the company in 2019. Kerry is also Non-Executive Chair of Untold Studios, an independent creative studio and community. Untold is a hub of creative talent creating culturally relevant original content, producing all forms of visual content, including advertising, music and entertainment, and delivering best in class VFX for advertising, TV and film. She also Chairs the Steering Committee for timeTo, the initiative to end sexual harassment in the advertising and marketing industry. Kerry is a Past President of WACL (2017-18), and of NABS (2018 – 2020).
Linda Grant: Non-Executive Chairman, NED & Board Advisor, Founder Goldpollen Strategy & Leadership Consulting, Virgin StartUp
Linda is a diversified portfolio executive blending board Chair and Advisory roles with hands on, in the business strategy and leadership development work through her company Goldpollen. Current board roles include Chairman of Virgin StartUp which helps entrepreneurs start, fund and scale their business and Trustee of the RSPB, one of the UK's leading conservation organisations with over 1 million members. Previous board roles include Chair of Housesimple, a technology led online estate agency backed by Charles Dunstone; Non-Executive Director of Crowdreactive, a Mercia Technology backed technology business which creates pioneering social media experiences at large scale events. Linda has over 25 years experience in developing and executing transformational growth strategies within major media groups such as DMGT Plc. and Capital Radio Group Plc. where marketing, commercial and group strategy roles lead to general management and board positions latterly as Managing Director of Metro UK.
Avril Gallagher: Portfolio NED & Career Coach
Avril has extensive experience of the media and communications industry and has held a number of domestic and international leadership roles within Omnicom Media Group and Publicis Media Group. Early in her career, she held a non-executive role within an Omnicom company. This was a positive experience and was pivotal in making the decision to investigate NED opportunities after leaving Omnicom Media Group in 2017. Today, Avril holds three non-executive roles all within the property and investment arena. In addition, Avril provides consultancy to start-ups / companies in their early years looking to grow. If that was not enough, during Covid she decided to embark on post graduate study specialising in Career Coaching with a view to helping people maximise their potential within the work place. This study during Covid has been fascinating and has added to what I can bring to the Board table.
Nikki Crumpton: Brand storydesign consultancy/ NED
After studying Geography at Oxford, Nikki joined BMPDDB where she quickly made her mark on the London advertising scene by being named as one of Campaign's 'Faces to Watch' in 1997. Following this Nikki became a Partner at Fallon where she was Head of Planning and as part of the management team was responsible for the strategic output of the agency. Nikki has worked across a broad range of consumer and business categories as well as the public sector. Clients have included the BBC, BT, Citibank, Starbucks, Nandos, Unilever, Unison and SC Johnson, with whom she has won a number of APG awards for planning and creativity. After spending 9 years at Mccann where she co ran London and then spent some time as European strategy officer, she has gone back to her creative roots and joins Mother London in October to work across a number of key accounts. In her spare time Nikki is working closely with people in the field of sustainability and social entrepreneurship in order to encourage business to move towards a better more sustainable business model.