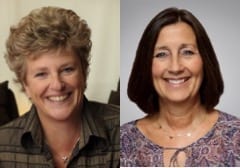 I am delighted to announce our next WACL NED event that is happening on Tuesday the 13th of January 2015 at 12:15 until 14:00 and will be hosted by Karen Blackett at MediaCom located 124 Theobalds Road London WC1X 8RX ( closest Tube station is Holborn)
The Theme of the talk will be 'Importance of sitting on Committee when you are a NED' and the speakers for this talk will be our very own Jane Ratcliff and Annette Court.
Speaker Biographies
Jane Ratcliff
Chairman: Mediacom
Jane joined BMP in 1982 as a media trainee working in computing and media research. She progressed into media planning and buying two years later, becoming a Media Account Director in 1990 with responsibility for many well-known clients including Marks & Spencer, National Dairy Council and British Rail.
During her time at BMP, Jane collected no less than three Gold awards for entries to Media Week's annual media planning awards and added four more after joining MediaCom in 1992. She was appointed to the Board during 1994 as Media Planning Director with specific responsibility for strategic direction and quality control.
In August 1999 she was promoted to Joint Managing Director and Managing Director in December 2005. She stepped up again in Sept 2008 to take over the reins as CEO and in Jan 2011 became Chairman of MediaCom.
Jane also sits on the IPA Media Futures Group and is on the Board of the NRS.
Jane has recently been appointed a Non-Exec Director of Goodwood and is also the Non-Exec Chair of GSP, an event production company based in London.
She is also heavily involved with two charities; The Winch and Ferring Country Centre.
The Winch is a charity based in North London that offers children the opportunity to fulfil their potential all the way from cradle to career. By supporting them, by helping them develop as individuals and by encouraging them to knock down the social and economic barriers standing in their way, we can improve the lives of London's inner-city children.
Ferring Country Centre is a charity set up on the South Coast to support young Adults with learning and physical disabilities. It aims to support them and provide them with the necessary care and tuition that will enable them to function in society and lead a better and more fulfilled life.
Annette Court
Non-Executive Director: Foxtons, Workshare, Merryck & Co
Annette has extensive experience as a CEO of major insurers – Direct Line Group and Zurich FS. She has worked across Europe including Eastern Europe and has a strong technology background with a record of using e-commerce to drive commercial success. She has developed major brands with a strong consumer focus. She also has experience of M&A, partnerships, joint ventures and restructuring, although she has had most fun in growing businesses. Above all she enjoys working with people of varying backgrounds, cultures and experiences.
Annette started her career at IBM as a systems engineer in the banking and insurance sectors. After 11 years she joined one of her clients, Direct Line. She helped shape this fast-growing business in changing the face of the insurance industry, eventually becoming CEO of Direct Line Group in 2001 at the age of 39.
She also became a member of the RBS Group Executive Committee. She led the acquisition of Churchill Insurance in 2003, forming RBS Insurance, with a workforce of around 18,000 people across the UK, Spain, Germany and Italy.
Subsequently she joined Zurich FS as the CEO of their European general insurance business spanning 11 countries across Europe.
She is now pursuing a portfolio career and is a non-executive director of Admiral Insurance, Jardine Lloyd Thomson Group, Workshare and Foxtons.
Annette studied engineering at Oxford University and completed an executive education programme at Harvard Business School. She is currently learning Italian as she is a lover of Italy.
She has two young children that keep her on her toes. She is also keen on arts and sport, and is particularly passionate about tennis. She also works in the charity sector with StreetGames, a charity that helps disadvantaged young people.
Key insights from this session
Annette had been invited to speak on the subject of 'The importance of sitting on a Committee' along with Jane Ratcliffe of MediaCom. Unfortunately, Jane was off sick, but Annette held forth and Francesca and Sharon were also able to contribute with their experience on the subject.
Following a career in Financial Services, Annette is now a highly successful career NED. She has 4 NEDs in total, 3 of which are with public companies, plus she is a Business Mentor and an advisor for a charity. She broke her talk down into three areas- Getting a NED; Board Committees (and what it's like to be on one); Top Tips- and spoke about each in turn.
Key points were as follows:
1.Getting a NED
Network, network, network. Accept all invitations, put in real time and effort and do your research thoroughly (make a point of finding out who is on the Board of the companies you are interested in, and try and get to meet them ). Even Chairmen can be happy with a direct approach, if it's done from the point of view of ' I'm really interested in getting your advice to help and guide me'
Meet as many people as possible and make connections. People who know you will give positive reinforcement, which may come in useful when dealing with headhunters-you are the company you keep
Getting a NED is a job in its own right. It is easier to devote this time when you don't have a fulltime exec job, but it is usually easier to get a job when you have a job. Make sure, if you're not in a job, that you are still relevant
Do your rounds of Search companies; find a way to keep top of mind with headhunters. They will not remember you otherwise
Aim high. Some say that the first NED you get marks you
Make sure you ask what the Chair and Senior Industry Director a really looking for when you respond to a recruitment brief
You will get knock-backs-everyone does. Don't let them put you off!
It is worth knowing that charities do not necessarily take up less time than paid NEDs
As a new NED, it is helpful to be sent of a course such as Spencer Stuart's NED course (but as it costs £12k, you need to get your Board to pay)
Private Equity: key headhunters are DirectorBank, IP Group, MBS Group and Skill Capital. You can also get to them via accountancy and law firms and letting your ambitions be known via them. PE companies tend to take a lot of your time
2. Board Committees
It is a very good thing to sit on Board Committees as they give you delegated authority to make things happen-something which can be a frustration at Board meetings.
Committee membership enables much better understanding of the business; this is a hugely beneficial extra layer of knowledge
Sitting on Committees looks good but also, over time, gets you into consideration to be the Chair, then the SID (and in both those roles you get paid more), so it's good long-term planning to be on as many as possible
Nomination Committee: interesting because it is concerned with succession and the talent pipeline
Audit Committee: you don't have to be an accountant to add value to an Audit Committee.
UK Corporate governance insist that independent directors (3) chair sit on the various committees :willingness to sit or chair a committee will make you more attractive to be appointed to a NED role
Better understand the real risks of the business and mitigate the risks
Sometimes Committee work carries more pay
Get into the consideration set for the chairing of committee (which again are sometimes paid more)
3. Top Tips
Not to underestimate the importance of doing your homework and really understanding the company and the key people involved, before you apply
It is key to identify what you're really interested in. You will be on a Board for anything between 3 and 9 years, so you need to be genuinely interested in it
Remember that the Chairman is very important (he hires and fires the CEO), so make sure you get on (ditto the second most important –the CEO)
Be clear how you can really help/add value
Take some risks-go and talk to people like Chairmen and CEOs before you apply
The beauty of a NED portfolio is that it gives a great balance of intellectual stimulation and interesting people, but also allows you the time to see family and friends