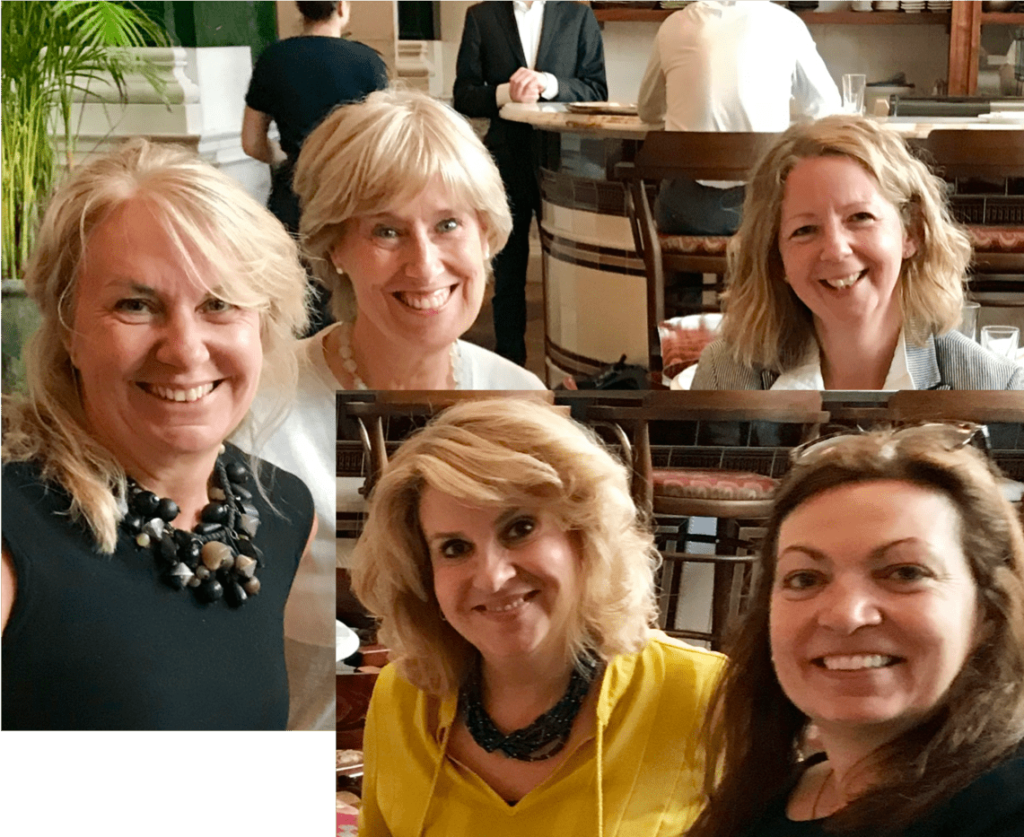 What are the key stepping stones to secure your first NED? Whether you are interested in listed, unlisted or not for profit organisations, there are some critical steps to ensure you have a strong action plan to achieve your goal. In response to popular demand, this session will provide hands on practical advice to ensure you are considering and optimising every step!
We are extremely fortunate to have highly experienced WACL NED Committee members, who have a wide breadth of experience across many different boards including Air France, Just Eat, Holland & Barrett, Saxton Bampfylde, Ted Baker, the Foundling Museum and many more.  They will join me to share their breadth of experience in helping you to unlock that first NED role.  We will bring to life each of the key stepping stones, along with helpful hints on how to approach them.  Speakers include fellow WACLers and committee members Sharon Baylay, Roisin Donnelley, Larissa Joy, Charlotte Oades and myself Francesca Ecsery.  Please our respective biographies below.
The event will be held on Monday 20th of May from 12.15 until 2pm and generously hosted by Sara Tate at TBWA's room within Omnicom Towers. Details are : The Tate Room, Level 7, Bankside 2, 100 Southwark Street, London SE1 0SW.  A light lunch will be provided.
Key insights from this session
Transition from Exec to NED career (Charlotte Oades)
Why do you want to be a NED?
Very powerful question
Be really open and honest with yourself about WHY (plural? Complement full time role? Broaden experience? Intellectual stimulation? Give back? etc)
Which will help you zero in on the WHAT and the kind of NEDs that are right for you
And to refine and tailor your CV and bio
Timing is key – but very personal to you
No right or wrong timing – only timing that works for you
Definitely benefits to starting early, while still in your executive career
If you don't have the capacity for feel ready for an external NED – don't forget to capture any trade association and pro bono strategic advisory roles to demonstrate the breadth of your experience
Shift your mindset from Executive to Board role
Take time out
Consider signing up for a NED course
Have a NED CV (Roisin Donnelly)
Have a NED CV which Focuses on your Board experience
Share your CV for input – search firms, colleagues, NEDs. Keep the improving it.
Have a tailored and relevant CV for each role you apply for, even if the search firm does not ask, send it.
We know in marketing you need to understand the target audience and have communication which is motivating to hearts and minds.
Always do a persuasive cover note, even when they do not ask for one. Include potential referees who are relevant.
Do not put too much on the CV. You need to show you have capacity – especially for listed companies or if you are still in an Exec role.
Working it on LinkedIn (Francesca Ecsery)
Highly authoritative platform. 100% of recruiter are on LinkedIn and will look at your profile. Many recruiter and job sites link your LI profile to their platform
Make sure your profile is Up to Date and complete. 100%. Best platforms to showcase your professions achievements. Turn on the privacy setting while you are actively building your content or correcting spelling mistakes but then turn it back on when it is good enough (perfect is the enemy of good)
LinkedIn Connections: it is good to have a good number of good 1st degree connections that will support your claim of expertise, personal interests and professional experience
Connect to everyone you know or have met personally and who you trust on a professional level
Once connected, look through their connections and connect to everyone you met from their network too, especially if you want to diversify industries you operate in
Be active and regularly participate: publish / share thought pieces on LinkedIn. Important because:
builds a digital footprint of your interest and expertise and builds your authority on a topic
sends a reminder that you exist to your connections every time something happens to your LinkedIn profile (new connections, a like, a share, a story)
Connect with every head hunter you have met or have contacted through your jobhunting efforts
Join LinkedIn Groups. You can join up to 50 groups. These could be in the areas you have extensive expertise in already or if you want to be more strategic about how you do this join groups in areas you want to build expertise (NED, Marketing, Digital, Big Data, AI, RemCo, Industry) . And then be active on those platforms
Sign up for Job Alerts and get reminders for any NED roles they publish (for practice or to see what skills are required etc..)
Network with a purpose ( Sharon Bayalay)
Building networks
Women are good at and typically have the natural skills for building relationships

Be present/listen
Seek out points of commonality
Be open/be curious
Be observant

Deliberate strategic networking

Don't leave an event before speaking with targeted people
Do your research before the event, target key people and identify common areas useful for discussion

Have current chairman introduce you
Quality not quantity – ensuring more meaningful relationships
Don't be shy about speaking directly to speakers at big events – and always ensure you follow up
Digital Profile (Facebook, LinkedIn, Twitter) – use it as your 'for sale sign'

Linked In – what are you good at? – What do you most want people to know about you?
Confluence of Opportunity with Passion
Elevate the way you think of the question – it's not just what can I get out of it
The question to ask is what am I really passionate about?
A good pro bono role is a good place to start
Be Proactive – don't wait to be called!
Do your own website hunting (company secretary, PR Company, Auditors etc)
Identify when an opportunity is likely to come up
Identify key points of contact that might be the most helpful
We all have a finite amount of time – so it is important how you allocate your time
Not for- profit as a first NED (Larissa Joy)
Ideally choose a topic you are passionate about because that does two jobs for you at the same time. These can be great opportunities to use your skills and expertise to do something that really helps people improve their lives.
The responsibility is no less because it's pro bono. Get to know the requirements of charity commission.
Opportunities for learning and chairing are useful forays as first time roles
Be prepared to be asked for a cash commitment ( Moving to the US model)
Beware of the hangers on! (moving out people who take up space is harder)
Speaker Biographies
Charlotte Oades
Ex-Vice President & Global Director, Women's Economic Empowerment – Coca-Cola
A former senior international executive at the Coca-Cola Company, Charlotte is now building a portfolio career focused on non-executive director roles and board level advisory for consumer facing businesses. Her thirty year career at Coca-Cola included roles in the UK, Europe, the USA and Asia Pacific. Her early career was increasingly senior marketing and brand management roles until appointment as President, Coca-Cola Great Britain with a £1.4bn P&L responsibility, then followed a European role across 38 countries and most recently a global sustainability and business development role across more than 200 countries. She has a track record of delivering innovation and sustainable growth by building brands, new business models and partnerships. She has been recognised for her pioneering work in women's empowerment as a growth driver for business and the economic development of local communities. She was listed in Marketing Week's "Vision 100" (2016); Fast Company's "Most Creative People in Business" (2015) and "League of Extraordinary Women" (2012) and Newsweek's "150 Women Who Shake the World" (2011). Charlotte is a Fellow of: The Marketing Society, The Institute of Grocery Distribution and the Royal Society for the Encouragement of Arts; a member of the Marketing Group of Great Britain and WACL. Charlotte was a founder member of the Women's Leadership Council of The Coca-Cola Company.
Francesca Ecsery
Portfolio Non-Executive Director & Mentor
WACL member since 1996 and Communications Officer on the WACL Executive Committee between 2002 to 2016, Francesca is currently a Portfolio Non-Executive Director with expertise in Marketing and 23+ years' experience in directing in both blue chip companies and start-ups in the Digital / Retail / FMCG / Leisure Travel industries. Currently, Francesca is a Non-Executive Director on 5 boards, Air France, F&C Investment Trust plc., Marshall Motor Holdings plc. and Share plc. She is an investor in a number of start-ups, acts as advisor in the leisure travel, retail and digital marketing sectors and works as a Commercial Coach to several entrepreneurs. Francesca is also the founder and Director of Advantage Portugal (www.advantageportugal.com), a one-stop provider of personalised professional services to help foreigners investigate establishing homes, businesses or investments in Portugal. Prior to going plural, Francesca worked as Global Business Development Director and UK General Manager at Cheapflights Media for 4 years. She has extensive experience encompassing consultancy with McKinsey &Co, marketing with PepsiCo, general management in a range of blue-chip travel companies including STA Travel, ThornEMI, Thomas Cook and Going Places, through to entrepreneurial activity working with VCs to set up, establish and exit internet-based travel businesses such as IfYouTravel.com. A graduate of Geneva University in Political Science and International Relations, Francesca also holds an MBA from Harvard Business School. She speaks 6 languages: French, English, Portuguese, Spanish and Hungarian fluently and Italian conversational. She lives in London and Provence with her husband Tim.
Larissa Joy
Portfolio Chair & NED
Larissa is Chairman of the Foundling Museum; Non-Executive Director of executive search firm Saxton Bampfylde, a Non-Executive Director of L&Q Group and a Non-Executive Director of Charles Russell Speechlys LLP. Her previous roles include Vice Chair, Ogilvy Group UK; European COO, Weber Shandwick, Partner of private equity firm Actis LLP and Chairman of Quentin Blake's House of Illustration. Larissa read Law at Cambridge and has an MBA from London Business School. She is a dual UK/ Australian national and has three young children and three step children. She has played clarinet in London Lawyers Symphony Orchestra for the last 20 years.
Roisin Donnelly
Portfolio Non-Executive Director
Roisin Donnelly is a Non Executive Director of Just Eat, Holland & Barrett and Bourne Leisure. She is on Advisory Boards of Coca Cola European Partners and the John Lewis Partnership. Roisin is the former Brand Director for Procter & Gamble Northern Europe and led P&G's "Thank You, Mum" campaign for P&G's sponsorship of the Olympic Games. Her previous roles include Brand Director for P&G Fine Fragrances in North and South America and Brand Director for Cosmetics and Fragrances for Europe, Middle East and Africa. She has also led P&G's Western European hair care business. She is a former council member of the Advertising Standards Authority. She led Diversity and inclusion for P&G UK. Roisin is passionate about coaching, developing and mentoring in the industry. She is a former President of WACL, a former Chair of Cosmetic Executive Women and a Fellow and Former President of the Marketing Society, Roisin was born and educated in Glasgow and is married with 3 daughters. She loves travel and the theatre.
Sharon Baylay
Portfolio NED, Coach & Mentor
Sharon runs a plural career and is currently Non-Executive Director at Market Tech Holdings Ltd, Restore PLC and ITE Group PLC. Sharon also runs her own business specializing in Senior Leadership Coaching and Mentoring services. Sharon is an Advanced Coach & Mentor, accredited by the Chartered Institute of Personnel and Development (CIPD) and is also a holder of the FT/Pearson Non-Executive Director Diploma. Sharon's executive career encompasses 15 years at Microsoft Corporation where in her role as European Marketing Director she re-launched the MSN Brand and took the No.1 online portal position throughout Europe. Aged 35, Sharon won the coveted Bill Gates Chairman's Award for creating a sustainable online business model and as a Regional General Manager opened new MSN businesses throughout the America's, Asia, Latin America and Europe. Subsequently as Managing Director of the UK Online and Advertising business Sharon initiated the acquisition of the online search business – Multimap UK. More recently in her executive role as Director of Marketing, Communications and Audiences for the BBC Sharon was responsible for the strategic direction of the BBC brand portfolio and in a period of significant transition for the organisation led all internal and external communications, re-organised the marketing team and oversaw significant cost reductions in staff and budget. Sharon has done three turnaround roles as a Managing Director, led a significant acquisition and several other integrations and worked in every market internationally (except Japan). Sharon's previous Board career includes Non-Executive Chairman Dot Net Solutions, Non-Executive Chairman – Havas EHS, Non-Executive Member of BBC Worldwide, Freesat and Digital UK and Executive Board Member of BBC Corporation and Microsoft UK Ltd. Sharon is also a Fellow of the Chartered Institute of Marketing.