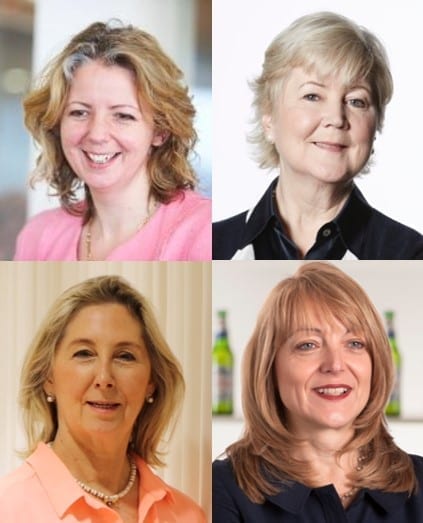 The first NED Lunch of the WACL year is all about 'Being a NED in the Arts sector.' It will be held on Monday, 10th October at 12.15 until 2pm at the Foundling Foundation 40 Brunswick Square, London WC1N 1AZ – the closest tube is Russell Square. This is courtesy of WACLer Larissa Joy who will chair the event and will be joined by Catherine May (Senior Independent Director of English National Opera), Judy Gibbons (Board member at Michael Kors, Guardian Media Group & Trustee, Somerset House and House of Illustration) and Virginia Eastmond, a Partner at Saxton Bampfylde, specialising in Media and Comms. Biogs of each panellist will be published shortly
So dance, theatre, visual art and a museum will all be represented on this expert panel.
Speaker Biographies
Larissa Joy
Larissa is Senior Independent Director and Chair of Governance and Remuneration Committee at East Thames Group; Chairman of The Foundling Museum and Non-Executive Director of Saxton Bampfylde.
From 2009-2015, she was Chairman of Sir Quentin Blake's House of Illustration, the world's first public gallery and education space dedicated to illustration in all its forms, which opened its doors to the public in King's Cross in 2014.
Her previous executive roles include Vice Chairman of Ogilvy UK; European COO Weber Shandwick; and Partner of emerging markets private equity firm, Actis LLP.
In her spare time she plays clarinet in Lawyers' Music Symphony Orchestra. She read law at Sidney Sussex College, Cambridge and studied at London Business School, where she completed her MBA.
Catherine May
Catherine May has been a non-executive director for five years and has worked with and advised the boards and leadership teams of leading multinational businesses for more than 25 years. Catherine is currently the Senior Independent Director of English National Opera where she also chairs the Advisory Board, and a non-executive director of Pop Concepts Ltd, a gourmet popcorn business. She has also served as a non-executive director of SAB Miller India Ltd and as a trustee and interim chair of the National Funding Scheme, a charity which develops software to accelerate charity fundraising. Catherine is also the principal of her own coaching and mentoring practice which works with senior leaders to increase their effectiveness and tackle developmental goals. Catherine has served on the Executive Committees of Reed Elsevier plc, Centrica plc and SABMiller plc, following an early career as a communications and reputation management expert.
Judy Gibbons
Judy Gibbons is a non-executive director on the boards of Michael Kors Holdings Ltd, Hammerson plc, Guardian Media Group and Virgin Money Giving. She is also a trustee of The House of Illustration and Somerset House.
Previously Judy spent over 30 years in executive roles focused on digital technology at Apple, Hewlett Packard and latterly Microsoft where she was Corporate Vice-President of Internet Global Sales & Marketing. She also spent five years as a Venture Partner at Accel, the technology investment firm, and was a non-executive director of O2 plc.
Judy has a Sloan Masters Degree in Global Leadership & Strategy from London Business School and a B.Sc. Honors degree in Engineering.
Virginia Eastman
Virginia comes to executive search with a fifteen year successful career as a BBC Business Presenter and Correspondent covering all the programmes of the Economics and Business Unit. She earned The Money Programme "Workplace Media Award" for Programme of the Year in 2003.
Hedrick and Struggles hired her in 2006 to lead Media and establish a Digital practice. Since then she has placed numerous senior executives and non executives for Saxton Bampfylde and helped companies solve the problem of how to reach their audience in a challenging and rapidly evolving convergent space. She also leads the Marketing and Communications practice at Saxton Bampfylde.
Key insights from this session
Hints, Tips and Advice
Judy Gibbons
Top TIP: READ THE BRIEF!!
Skills and qualities when considering NED roles in the Arts sector –
What is your skillset?
What does the organisation need and how will you be contributing as a trustee?
Must be engaged and interested in organisation
Need to turn up and get stuck in
Pitch directly to trustee if passionate about getting involved; lots of organisations can't afford head-hunters
Volunteer and get to know organisation
Register with Nurole board level hiring digital platform https://www.nurole.com/
Note that 'Development' = 'Fundraising' so be sure about your contribution
Virginia Eastmond
Top TIP: KNOW YOUR AUDIENCE
Key considerations –
Struggling to find women in enlightened commercial world to fill roles
Put your hand up for top role i.e. Chair!
Think about what you are bringing to board – strategy, knowledge of emerging markets etc.
Research detail around each of the people you will be addressing in the room
Don't put your hand up for development board unless you can do it, albeit difficult to avoid
Ask for feedback from person who didn't hire you – don't take 'no' for an answer
Need a different USP from your executive career
Similarities between corporate world and arts – regulation, strategy, back office functions (marketing, finance, HR), governance, digital
Catherine May
Top TIP: DO IT!
Key considerations –
Governance real concern on Arts board. When things go wrong you must pitch in very heavily. Difficult to do around full time role
Structure often along similar lines to Plc
Arts organisations looking for something very similar to business except fundraising contribution – good governance, advocate for organisation, mentor execs
Opportunity to stretch yourself in weighty roles
Real experience can help with career growth in corporate environment
Think long and hard about what else you can bring eg WACL'ers – comms and marketing
Need to more flexible than in business because of 'dipping in' as a NED and knowing when to step out
You will be part of controversy if issues arise i.e. backlash on Twitter. Need to be aware and confident to stand up for your decision
Fantastic place to be doing it for yourself and the greater good
Be sure you are really passionate about organisation and cherish that – not usual advocacy
Not all fun and galas!!
Q&A
Interesting to find a chair role for organisation going through transformation
Don't be backwards about coming forwards!
Don't rule out difficult roles
If you go up for Arts board, worth asking if they have Chair appraisals. Important Chair is held to account
Time commitment c. 2-3 days a month on average but can be lot more if things go wrong