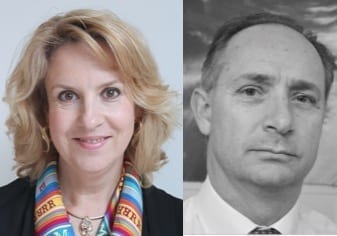 Our next NED event will be held on Tuesday 11 February from 8:30 to 10:00 at Deloitte Academy, Stonecutter Court, 1 Stonecutter Street, London EC4A 4TR​.
The theme for this session will be: "Networking for NEDs"
Speaker Biographies
Francesca Ecsery
Non-Executive Director and WACL member
WACL member since 1996 Francesca is now NED but used to be an MD/General Manager with 23 years' experience in both blue chip companies and start-ups in the Digital / Retail / FMCG / Leisure industries. Special expertise in multi-platform consumer Marketing, Branding and Commercial strategies which deliver growth and profits. Recently built a NED portfolio in a diverse range of listed companies from Foreign & Colonial Investment Trust to Good Energy Group. Previous executive experience includes McKinsey, PespiCo, ThornEMI, Thomas Cook, STA Travel, Cheapflights Media and many other consumer brands. Francesca has a Harvard MBA and speaks several languages.
Greg Wood  
Sales and Marketing Director for Boardex 
BoardEx is the leader in the emerging field of Relationship Capital Management (RCM). Relationship capital is the sum of an organization's employees' relationships. This valuable, but historically under-utilised source of capital, is how an organisation connects to the marketplace. BoardEx enables organisations to, for the first time, leverage the value of this resource.
Since 2000 a blue chip client list, numbering over 250 of the top investment banks, management consultants, lawyers, Business Process Outsourcing firms and multi-national corporations have become subscribers to our services. Unlike single user social network websites, BoardEx is a proprietary institutional platform intended for organizations offering high value products and services.
BoardEx has built an enviable reputation for building (and critically maintaining) the most accurate, in-depth, and reliable profiles of the world's most influential individuals, consisting primarily of those running the largest organisations globally. Using unique algorythms BoardEx identifies how these individuals are connected to each other and ultimately how your company can exploit these connections in order to reach people you don't know, through the people you do.
Key insights from this session
Francesca Ecsery
Spoke from her perspective of a diverse portfolio of NEDs, and described her 3-year journey to get to where she is now. She provided a print-out of her personalNED Journey and she shared a number of different networks and organisation focusing on NEDs and Women on Board. Her key 'NED Tips' were:
NED CV : create one that is different from the executive CV you have
LinkedIn: make sure your profile is up to date and complete. Connect to everyone you know.
Connect with Head Hunters on LinkedIn so that they can get automatic updates that reminds them of you
Networking:

New Head Hunters – Head hunters: make sure that the NED specialist in each head hunting co knows you are looking – they are different from your executive contacts.
Other NEDs ( women) as experienced NEDs get most of the head-hunter calls – they can refer them on to you and save them time– let them know you are looking
New audiences – auditors, researchers, nominations committee Chairs, new areas / industries / interests ( PE groups, etc..), use the resources of Boardex.

Job sites: put your CV up on relevant job sites – IOD, FT….new leads
NED appointment ads: scan the papers /sites that publish NEDs roles for new contacts not just jobs
Manage your expectation on how long it takes the get the great NED appointments
Interviews: Highlight  the evidence in your experience for each points in the role requirement in your application email
Follow ups: Always! Use the opportunity to restate your interest in the role and clarify important points
References: get them ready in advance as for NED roles they need to be checked before you get on the short-list
It is never too late or too early to start!
If I could start all over again I would have had my first NED while I was still full time employed.
Following points are worth noting in addition:
Head Hunters have short memories: your CV has an average shelf-life of 3 weeks, so you need to find other ways of remaining top-of-mind
A key person to know at the Head Hunter is the Researcher
As Head Hunters call mostly people they know already, it is smart to network amongst other female NEDs in order to widen your profile
Generally, it is a good idea to network amongst new audiences
You should write a 'NED CV', which will be different in focus to your general one (eg you will need to pull out things that boards care about- teamwork; committee work; 'softer' skills, such as emotional intelligence and common sense – as opposed to demonstrating the sorts of results-driven competencies that a normal CV requires)
'Pay forward': share your details-you never know who your friends know who might be useful; there can be advantage in 'hunting in packs'
Greg Wood
Explained what BoardEx is, and gave a short demonstration of how it can be used and the benefits it offers.  BoardEx is essentially a database of everyone who has sat/ sits as a director of a quoted company in the UK. It is used as a research tool for exec and non-exec roles, because it enables you to summarise the boards of the companies, and then search for individual profiles and networks and find connections.
He made a number of key points:
What Chairmen want from their NEDs is the ability to understand financials (which generally represent 80% of the meeting) and then provide insights based on their own, particular expertise
Chairmen have an obligation to consider a broad and balanced list of candidates for their NED positions –even if they don't employ them
It is likely that your 1st NED position will come from networking and not via a Head Hunter
Due diligence is vital when considering whether a NED you are offered is the right one for you: make sure it's a board you actually want to join; look at the Chairman-how many NEDs does he have/ will he have time for you; look at the construction of the board-who are the other NEDs/how will you add value?
There are more than 500 companies on BoardEx that do not currently have a female on their board
It is worth remembering that 'the people you know can introduce you to the people you don't know', and BoardEx is one of the ways you can connect with such people.
Greg agreed to supply passwords to the WACL NED interest Group Members (and others who have expressed an interest in NEDs) so they can access BoardEx as individuals. Access detail can be obtained by contacting Greg Wood directly and mention that you are a WACL member interested in networking for NED and that Francesca Ecsery suggested that you get in touch with him to access Boardex.