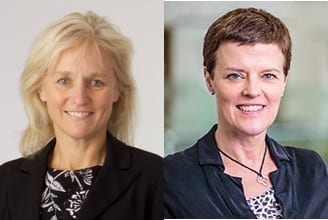 For our first NED Talk of this WACL calendar we are delighted to announce that we will be joined by two WACLers who have successfully built their impressive portfolio career in a remarkably short period of time .
Speaker Biographies
HELEN STEVENSON
Non Executive Director at Trinity Mirror, St Ives, Skipton Building Society and Henley Business School
Helen started her career with Mars where she spent 19 years, culminating in her role as European Marketing Director, leading category strategy development across Europe.
She joined Lloyds TSB in 2003 as Director of Group Marketing responsible for the group brand portfolio and marketing and the retail customer experience. Under her tenure the LTSB brand and the customer experience were re-invigorated and she delivered a step change in the ROI of the marketing budgets and the value and use of customer insight.
She then spent 5 years as Chief Marketing Officer at Yell Group UK driving the transformation of the business from a print publisher to a digital marketing services organisation for SME's.
Helen has additionally served as a non-executive director on the main board of the Department of Work and Pensions and worked for the Cabinet office. Helen now divides her time between non exec work and consulting, with a focus on businesses looking for enhanced customer led growth and valuation.
She sits on the Henley Business School Strategic Advisory Board, and is a non-executive Director of Trinity Mirror PLC, St Ives PLC and Skipton Building Society. She chairs the Remuneration Committee at Trinity Mirror and St Ives and is on the Remuneration and Risk Committees at Skipton Building Society. She is also a partner in NavitasIP a boutique advisory business focussing on high growth entrepreneurial businesses.
She holds a degree in Chemical Engineering from Cambridge University. She is married to Nick and has three wonderful daughters
HELENA GANCZAKOWSKI
Founder, HLG Consulting
Helena had a relatively unusual start for a marketeer, studying Engineering at Cambridge University followed by a PhD on the cracking of aeroplane wings.
After six years of Engineering and Research (and a lot of sport), Helena joined Unilever as a Marketing Trainee in 1988. She spent the next 7 years at Lever Brothers in the UK working on a range of local and European brands. In 1995 she went to work for Niall FitzGerald as his 'bag carrier' during his transition from Detergents Co-ordinator to Unilever Chairman. Helena then became Senior Corporate Strategist based at Unilever's Head Office in London and travelled widely in Unilever working with businesses as diverse as Calvin Klein perfumes in the US and local green tea in China. In September 1999 she moved back to Lever Brothers as UK Marketing Director, progressing through the merger with Elida Faberge to become Homecare Marketing Director, Lever Faberge UK.
In 2005 she moved to work in Unilever's global Foods Category, driving the Corporate Vitality strategy and running leading edge innovation in Beauty and Weight Loss working closely with R&D. In 2007 Helena took up the role of Global VP for the Heart Health brands (Flora and Becel) with sales of over £1bn in 40 countries. At the end of 2010 she became Global VP Agency Relations – leading the design of a new global Agency model for Unilever in the digital world.
After 23 amazing years at Unilever, Helena took the plunge in 2011 and left to set up her own Consultancy business, working on strategic marketing challenges with a wide range of clients from FTSE 100 to start ups. She is also Non-Exectutive Director at Croda PLC, Greggs PLC and People Against Dirty (holding company for the Ecover & method household cleaning brands).
Helena and her husband Martin have three girls: Becky (14), Victoria (12) and Natasha (9) who keep them very busy! They all love sport (especially running, ski-ing, swimming and cycling) and have travelled widely both backpacking and expeditions. Helena ran the (final!) Flora London Marathon in 2009.
Key insights from this session
Helen
How to get a NED?
Lots of patience – it is at least a 2 year process
It is not a straight-line process either – lots and lots of networking and flexibility are key to getting your first one!
What are people looking for in a NED?
Depth of expertise
Breadth of understanding of how businesses are run
Gravitas – Chairman need to see you demonstrate that you can make a contribution, that you can see the wood for the trees and that you can ask great questions!
That you have enough time to dedicate to the role
That you will be a good fit with the existing NED team and Executive Directors
Remember – you are not there to replace the Executive Team and a core skill is the ability to ask questions, NOT give solutions
Headhunters v Other options
Both Helen and Helena do feel that headhunters are important but felt that a number of the "boutique" ones were particularly helpful – Zygos were mentioned.
Helena
How to get a NED?
Try to get your first NED role whilst fully employed as an executive
Helpful to think about what you want from your NED Career – is the role interesting to you and think about how to get your portfolio right/balanced
Decide, as a result, how you want to position yourself.
What are people looking for in a NED?
Chairman have a very low risk appetite – so think about how you can get them to say "yes" to you!
Don't be discouraged, these things do take a very long time and are normally not personal – it is often about fit!
What is your brand? What do you, in particular, bring to a board that is unique to you?
Finally, be clear on your context for your Board career – what is your longer-term ambition/aspiration as you are signing up to a 6-9 year tenure on a Board – need to make sure it is the right one!
Network, network, network – think about how your contacts can positively reference you too.
Top Tips
Speak early on in your first Board Meeting
Read the Board pack at least twice
Commit enough time to learning about the company
Be activist on a Board, but in pairs!
Build relationships outside of the Board room
Make your ideas sound like someone else's
If you are intending to become a Chairman of Remco then you need to bring a speciality too
Be clear on your context for your portfolio career.