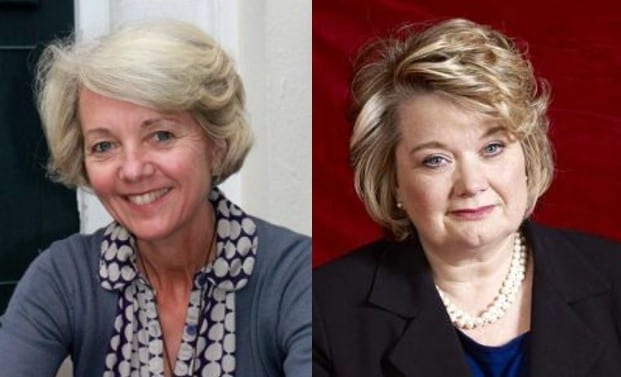 Want to work more flexibly, have a bit more control over your time, but still in an interesting, challenging and motivating job? A portfolio career may well be the answer – but what sort of portfolio is right for you? Do you prefer being more hands-on, more operational, or would you like to move into a more objective, independent role? Today's speakers represent each end of this 'portfolio working spectrum' and are here to share their experiences and tips from their personal journeys.
This event will held on Wednesday the 15th of June 2016 from 12:15 to 14:00 and kindly hosted by Maxus located at Alphabeta, 5th Floor, 14-18 Finsbury Square, London, EC2A 2AH (closest Tube Station Moorgate or Liverpool Street).
Speakers will be our very own Jayne Barr and Heather McGregor  (Mrs. Moneypenny alter ego). Mrs Moneypenny has written a weekly column in the Financial Times since 1999, entertaining readers from Seattle to Shanghai, Singapore and Sydney, plus plenty of places in between. Mrs Moneypenny is a former investment banker and has an MBA from the London Business School and a PhD from the University of Hong Kong.
WACL's Jayne Barr has spent the past 12 years as a marketing freelancer working in a variety of interim and project roles across multiple sectors. Most recently she has been   Marketing Director at Confused.com, Marketing Adviser to the Institute of Directors, Visiting Tutor at Falmouth University, and Global Digital Advertising Manager at Shell. Positioning herself as a 'marketing troubleshooter', she parachutes into all manner of companies and addresses marketing problems head-on.  Her particular combination of client and agency experience enables her to get to the heart of any matter quickly, bring about solutions efficiently and effectively, and ensure everything aligns  to the wider commercial goals.This 360 degree perspective is a great advantage, allowing her to combine objectivity and inside-knowledge and deliver unique, independent insight . Overall, it is true to say that Jayne feels most at home when she has her sleeves rolled up, helping business owners make a real difference
Speaker Biographies
Miss Moneypenny
Mrs Moneypenny began writing for the Financial Times while based in Tokyo, then later in Hong Kong and Singapore. Subsequently, she returned to the UK and bought into a small but profitable business in the West End of London, where she was the youngest and worst-groomed of four owner-directors. She later led a management buyout and is now the majority owner.
She runs her own business while juggling three children (Cost Centres #1, #2 and #3) and a sport-obsessed husband, all of whom are subjected to relentless scrutiny and humour in her weekly column. Mrs Moneypenny is described as being 'provocative, hilarious and wise' as she advocates hard work, delegation, self-promotion and financial literacy as the key skills of successful women. Mrs Moneypenny is the author of 6 books, Mrs Moneypenny: Survival in the City (2003), Mrs Moneypenny: Email from Tokyo (2006), Mrs Moneypenny Returns (2008), Mrs Moneypenny: Crunch Time (2009), Mrs Moneypenny's Careers Advice for Ambitious Women (from 2011 to 2013) and Mrs Moneypenny's Financial Advice for Independent Women (2014).
Mrs Moneypenny was honoured to be asked to write a column in the Australian Womens Weekly, as her husband and her sons all have Australian passports, and she has many friends and family members in Australia. Mrs Moneypenny writes in Management Today about her thoughts on topical business and management issues. Mrs Moneypenny has presented 6 series of the UK Channel 4 series Superscrimpers. The 'At Home with Mrs Moneypenny' show ran at the Edinburgh Fringe and off-Broadway (at the 59E59th Street Theatre) in 2010, and she returned to the Edinburgh Fringe in 2013 with Mrs Moneypenny Returns and Mrs Moneypenny's Money Clinic Live. In December 2013 she appeared in the Come Dine with Me Christmas special, which is available on 4OD. Mrs Moneypenny is a frequent guest on BBC Radio 4, and other BBC radio stations.
Mrs Moneypenny's alter ego, Heather McGregor, was awarded a CBE in 2015 for services to Business, especially Employment Skills and Diversity in the Workplace.
Jayne Barr
Jayne Barr started her career at the integrated agency, Marketing Solutions. After just a year she moved to her first advertising agency, SJIP/BBDO. There followed 25 years in the ad industry, in a variety of senior business and strategic roles across a wide spectrum of agencies – from large multinationals, through SMEs, to smaller owner-run shops.
In 2004, Jayne set up Creative Consulting, with a view to applying her unique 360 degree perspective to a broader range of marketing challenges. She now works with private and public-sector clients as well as agencies and consultancies. Projects have included a branding and communications review for the Department for Work and Pensions, agency search and selection for Clarks and Carfused.com; change-management , global
market research and digital advertising for Shell; marketing workshops for BA; general marketing for Abellio; brand identity development for Aviva, and capability management for Vodafone and LBG.
Most recently, Jayne has been working again with Shell, creating the campaign that  will drive the global business strategy, and with Confused.com as Interim Marketing Director.  She is also the Marketing Adviser for the Institute of Directors and a visiting Tutor at Falmouth and Bucks New Universities.
Key insights from this session
Heather McGregor
runs a search company Taylor Bennett, which she bought for £1.8m at the age of 42, having stated aged 23 she would buy it in the future. A global firm, Taylor Bennett specialises in senior level in-house communication professionals and completes c. 130 job searches p.a.. All 55 staff members receive a fixed salary and do not have personal sales targets, a philosophy that is important to Heather. The London office typically receives 3,000 resumes p.a., of which the team would have face to face interviews with 1,000 candidates and complete ~ 42 job searches.
Heather was one of the founding members of the 30% Club and has written 6 books, the most famous of which is "Career Advice for the Ambitious Women". She is currently working on a new book called "Career Advice for the Tenacious Teenager" which should be published in 2017. Heather told some interesting anecdotes about the positioning of her book on Amazon alongside "Run Fat B*tch Run", "Fifty Shades of Grey" and Lean In. Heather promised to share a copy of her book with all present on the proviso that once attendees have read the book, they will pass it on to somebody else.
Heather referenced a book by Lynda Gratton, "100 Year Life" and in particular the free diagnostic tool on the website that helps you to prepare yourself for a long career in the right way. At 40, we can expect to have another 25-30 years of work and we should be thinking about a 15-20 year strategy. http://www.100yearlife.com/diagnostic/
In answering the question, should you be a NED or not? Heather spoke about decision making 1.01 and used the analogy of a company executive faced with the choice of building a car park or not for staff – a bilateral decision with a yes or no answer. As you challenge yourself to address this question, you broaden your thinking, so that you can imagine whether or not it is important to have a car park, or how you might address capacity issues e.g. provide your staff with an oyster card, allow your staff to work from home one day a week. The more you think about something, the better your decision will be.
In thinking about your next job – be that as an executive or non-executive you need to think about your personal goals.
What's important to you? Do you want a role that will
Provide intellectual challenge
Provide a thought leadership platform
Money
Personal development
Other, such as flexibility?
Think about your own list of goals and the rank the attributes in order of importance to you.
Then think about the options to achieve these goals.
If it's money, you may want to think about a NED role in a law firm, as these roles pay well – rather than a vanilla NED role with a major bank (RBS) which asks for 100 days p.a. and only pays £100k.
If it's flexibility, then a company with a meeting calendar that clashes with the ski season (Whitbread) may not be the right choice for you, if you're an avid skier.
Are you able to explain how the role you're considering matches your goals?
CVs
Typical person spends 45 seconds reading a CV. You need to ensure that the reader sees the 3 things you want them to see on your cv. Your cv should be maximum one page. Heather challenged us to place our cv upside down and then ask somebody to read it in 45 seconds. If that person can't identify your 3 key messages, then you need to rewrite your cv.
If you want to be a NED, have you thought about whether you'd like to work with a public or private company?
There are 4,000 quoted companies in the UK and you can access full list on the Stock Exchange website.
There have been 2 major governance reviews in the UK. The Cadbury Review which spoke to separating the role of CEO and Chair and the Higgs Report which identified that NEDs in position for > 9 years were no longer independent and companies should comply or explain by a NED would remain on a board for > 9 years. (US companies are not subject to director rotation rules). This means that there is a continuous turnover of NEDs in the UK, and a good chairman is always thinking about recruiting new NEDs. Of the 4,000 roles available p.a. c. 400 go through head-hunters and remaining 3,600 are via word of mouth.
Have you thought about the companies you like to serve on?
You need to be strategic.
If it's a public company, get a list of all the quoted companies, determine the size of firm you'd like to target, the sectors that are of interest to you. Narrow down your list to say 50 and then review their websites. Then don't be afraid to use what you know and who you know, to get closer to the chairs of your targeted companies. Finding a NED role, is not about knowing the right head-hunters. It's a question of using your human and social capital.
In choosing a role you need to
Believe in it
Like the people
Do your due diligence.
Heather gave her own example of NATs, a role that she is currently interviewing for – as a private pilot, she believes in NATs, she knows some of the other board members through her various business connections and likes them (could work with them). She is aware that the government wants to sell its 49% shareholding in NATs (brilliant experience to get involved in IPO, similar to Royal Mail some years ago) and that NATs has a significant pension deficit and the cost of its current debt financing is very high. Heather was able to show through her due diligence that she is very much aware of the issues, has an affinity with the organisation and she will present very well at interview, because this role aligns with her own personal goals.
Personal Goals
Heather sets herself a personal goal every year. In the past, this has included obtaining a private pilot license, doing a one-man show at the Edinburgh fringe, this year, her focus is on her new book. One of her passions is diversity in the workplace and in particular, a focus on getting ethnically diverse young people into the workforce. In 2008, she decided to divert some of the profits of her business to this cause and since then, she has had 200 young Black and Asian graduates go through a 10 weeks paid internship program in her company. She was recently awarded the Diversity Medal by the CIPR for this initiative. The single biggest barrier to young Black and Asian graduates getting the right start to their career is social mobility. She is currently undertaking some research to measure the social networks of these graduates at the start of the internship, end of the internship and 3 years into their career.
Getting that first NED role
Heather gave examples of two NEDs that she coached. Both struggled to their first NED role. The key to success was identifying the right target, finding a sponsor and getting the CV down to 1 page with 3 key messages. One of the issues that xx faced was the fact she had worked with McKinseys for 27 years – Heather suggested changing this headline to "> 20 years at McKinsey" and Johanna joined the retail trading arm subsidiary board of the Tate to increase her social capital.
Third Dimension / NFP Roles
It is important to have a third dimension to your life that helps build your human and social capital. Be strategic, in choosing NFP boards. You only have 168 hours in a week. Don't stay too long. If after 5 years, you're not the Chair and you are not learning anything new, then consider moving on.
Commercial Roles
You only need to be 50% interested in a role to go and check it out at a first meeting.
You need to be 70% interested to go to a second meeting.
Are you happy with the fee?
Does it pass the friends and family test?
Will you grow in the role? The easiest way to become a chair of a committee is by befriending the current chair and asking to be the next committee chair.
Learning to say NO, is a life skill that we all need to develop.
In concluding her thoughts, Heather used a flying analogy and focused on three things
Altitude – you can never have too much altitude. Recognise the strength of the weak ties, the chances that you will get your next role via somebody you barely know or someone who knows somebody you know is very high
Runway – ensure you have lots of runway in front of you
Fuel – you need to have fuel in the tank i.e. energy, passion in preparation for all eventualities
Jayne Barr
has a music degree and is an accomplished conductor and saxophone player. She has > 20 years' experience in an ad agency and believes that her conducting experience enabled her to be a great account manager. In 2004, she negotiated her exit from her agency because her work had become more global and she was no longer able to control her diary.
She initially took some time out and got an offer to do a 3 month change management assignment at Shell through the strength of a weak link. This experience enabled her to see that her skills were transferrable and she learned more about herself. She realised she could make a career out of doing consultancy work and that this career would provide her with the flexibility that was missing at the ad agency. She wouldn't need to be at her desk from 9am-6pm or be responsible for managing hordes of people.
Jayne was very concerned that she wouldn't been seen to have disappeared from the ad world when she left her agency and kept up her contacts in the way she preferred best. Having coffees with people every 3 months or so. Jayne doesn't enjoy large networking events and gets more out of 1-2-1 catch ups. Jayne positions herself as a "Marketing Trouble-shooter" and since 2004, she has got all of her work through her network.
Jayne has done all types of marketing related projects. She was keen to stress, that people buy you for one thing, but you get used for many other things. She has worked directly with Aviva, Shell and Abelio and via other contacts with Lloyds and Vodafone.
She recently returned to the agency world to work with the new consulting arm of Abbott Vickers.
Jayne did not set out with a specific career plan to be a consultant, rather she has found her niche through being open to the many opportunities that have come through her network and is now an established Marketing Trouble-shooter. She doesn't want to own a larger consulting business and have responsibility for other people, she is happy being bought for the skills that she brings to the table.
The advantages of being a consultant are
Flexibility – enables you to work remotely
Autonomy
Scope to have a life outside work
Less politics –" you're in it and not of it"
Treated differently as a consultant
Opportunity to learn
Great variety and challenge
Good for people who don't like routine and like to create opportunities
Ability to remain objective and still have an ability to circumvent the bureaucracy.
However, there are challenges
Can be lonely, particularly if you're somebody who enjoys the culture of belonging
Don't become a consultant too early in your career, you need to have established a reputation to ensure longevity
If you're somebody who is totally dependent on a PA for IT and diary management, forget it
Need to have confidence to be able to do it.
Jayne has no intention of stopping what she does. She has a full life and sits on the WACL committee, sings in a choir and is a trustee of a drama school. She never wants to give up working. Her ideal would be to have a balance between a well-paid role, a role that she loves and a role where she is giving back to society.
Jayne stressed the importance to keeping relevant and be current. "You need to keep a hand on the cultural pulse". She does this by mentoring young people and helping with a start-up.
Special thanks to Fiona Stewart for co-ordinating today's session. Anna Hickey for so kindly hosting us at Maxus Global and to our speakers Heather McGregor and Jayne Barr.