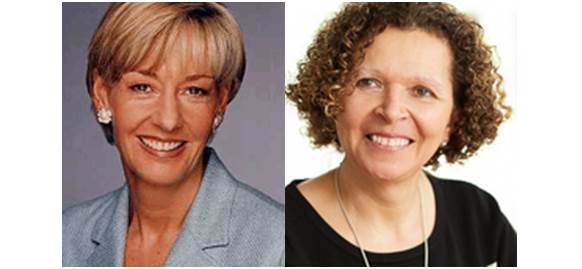 I am delighted to announce our next WACL NED event that is happening on Tuesday the 9th of December 2014 at 12:15 until 14:00 and will be hosted by our lovely President Lindsay Pattison at Maxus Global, located on 11-33 St John St, Fitzrovia, London EC1M 4AA ( closest Tube Station is Farringdon).
The theme of the talk will be 'The value of having a Marketing NED on Boards' and the speakers for this talk will be our very own Sue Farr and Carol Reay.
Speaker Biographies
Sue Farr
Executive Director at Chime Communications
After an early career in marketing with Northern Foods plc, Sue moved into advertising.
After Bates Dorland and CDP, she joined WCRS as Business Development Director in 1986. Four years later, the agency had doubled its billings and moved into the top 10. She joined Thames Television in 1990 as Director of Corporate Communications and was seconded to UK Gold as launch Marketing Director in 1992. In 1993 the BBC hired Sue, as its first marketing professional, to be Head of Marketing for Radio. She was appointed Director of BBC Public Service Marketing in 1999. In 2003 she joined Chime Communications plc.
She is a former Chairman of the Marketing Group of Great Britain. She is a member of Forum UK, the RTS, the IOD and a Fellow of the RSA. She is a WACL, Woman of Achievement and was Advertising Woman of the Year in 1997.
Sue has three Non Executive Director roles – Millennium and Copthorne Hotels plc (appointed December 2013), Dairy Crest plc (appointed October 2011) and Motivcom (appointed 2008). From 2007 – 2013 she was a Trustee of the Historic Royal Palaces.
Carol Reay
Partner at Odgers Bernsdtorm
Joined the club in 1989 and first served on executive committee in 1991. President 1995/96. After graduating from Manchester University Carol began a career in advertising working in various agencies to the level of board director before setting up her own agency, Jenner Keating Becker Reay in 1984. As its MD she took the agency through a merger and buy out to form Reay Keating Hamer and later in 1995 Mellors Reay. In 1999 Mellors Reay merged with Grey Worldwide and Carol became Deputy Chairman. Carol served as an IPA council member. In 2000 Carol joined Great Ormond Street Hospital as their Executive Chairman of Fundraising and Public Affairs. As rewarding as this new challenge was in 2001 Carol decided to step to one side of business for a couple of years in order to devote time to her small children. She continued as Chairman of Nabs during this period. In 2003 Carol co-founded Sherbert Lemon Ltd, a Brand Consultancy with a client list consisting of The Home Office, Young's Seafood, the Open University, the British Retail Consortium and the Criminal Justice System. In 2008 Carol took up a non-executive directorship at Springetts Design Consultancy a top 10 design agency. In 2010 Carol qualified as a psychotherapist. In 2014 after having been a consultant to Odgers Berndtson Executive Search for a couple of years Carol joined the firm as a partner and Global Chief Marketing Officer. She also took up the non executive Chairmanship of brand Evaluation Company Transfressive X. Carol lives with her family near Cambridge.
Key insights from this session
Carol Reay
Carol currently has an Exec role as CMO of Odgers Berndtson; in addition to this she has two Non Exec roles; one for a large design agency and one for brand consultancy.
Carole has realised during her time at Odgers how "off radar people in advertising, communications and media can be for big head-hunters".
Carol drew on the knowledge and expertise within Odgers (Brand Leaders in the Non exec space) for her talk and spoke with key people within the organisation including Kit the Head of the Non Exec business to get some specific thoughts and tips.
In her conversation with Virginia Bottomly who is the Chair of Board Practice Virginia encouraged potential Ned candidate to consider "if I am the answer then what's the question?" This is a good way to define what skills you have, what you will bring to the table within an organisation.
Be realistic about where you might fit in look at the scale of business you come from and the experience you have and therefore where you might go.
Consider where you will fit best;
Conventional PLC's?
Commercial organisations/ Partnerships?
Public or Private space?
Charity or Not for profit?
Understand your own motivation for the role- work out what you want to gain both personally and professionally- is it kudos? Or Status? Or a desire to give back? Use this to determine what sector or what roles you should apply for.
If you want to move into the NED space it's important to make your existing network know, mark their card and think how they can help you and ask for help.
Understand the Head-hunter perspective- they are paid to service their clients- they are looking for candidates that fit the roles they need to fill and match client needs-not their role to articulate what you're good it's your responsibility. They get 50 CV's a week.
Get your CV down to two pages if you can- keep it polished and up to date- understand that this is more about selling yourself than you've been used to, in the past head-hunters came to you, now this is more like a pitch.
If you understand your strengths and weaknesses you can either aim off them in a meeting or at least be aware of what you need to work on.
Head-hunters do long list and short lists with candidates having colour coded skills.
Marketers in smaller organisations can get overlooked so work your network.
Sue Farr
Ex Chime/ BBC and Agency -Non exec of Historic Palaces, Dairy Crest and Millennium Copthorne hotels.
Sue suggested it can be helpful to let your current organisation know that you're looking for a Non-exec role, her own Chairman Tim Bell identified that she was in need of a new challenge and agreed to support her in this.
Need to see everyone you know who might be helpful and get in front of them, head-hunters and key intermediaries.
Need to be determined and committed if you want to succeed and you need to know your own capabilities well.- Head-hunter once sent her a long list of candidates for a NED role she was applying for and it made her appreciate the strength of the competition- how impressive it can be
Information and doing your homework is key when applying for roles.
Understand what the goals and challenges the organisation has that you are approaching. She recommends finding the broker or the analyst who covers that business and sector and "drain them of information" ahead of interview!
If you can meet and interview the independent director of the company you are interviewing with ahead of time do. Take the opportunity to ask the "what's it like around here" question to find out how the organisation works and what the politics are ahead of final interview.
When you arrive, take your time to show your worth, easy to be over eager to prove that they've made the right choice! She commented that it was a year in one post before she felt she was adding full value also important to understand that on a board you need to challenge in a constructive way not a disruptive way.
If you're not interested in the business don't do it for the sake of a NED. Paul Walsh, new Boss of Formula 1, has a tip that you need to be fascinated by the business side of an organisation to stand a chance of working usefully for them- otherwise don't do it.
Odgers is biased towards level of person who is or has been on a board.
Aim listed business or charity/ pro bono work a good place to start and get experience.