Whether you are looking for your first NED role or an additional role for your portfolio, this session will give you insights to help you succeed in securing a NED role. In this session a top Board headhunter and an experienced Chair from our industry will share invaluable and practical advice to ensure you are set up for success. They will share with us the diversity beyond gender that Boards and Chairs are currently seeking.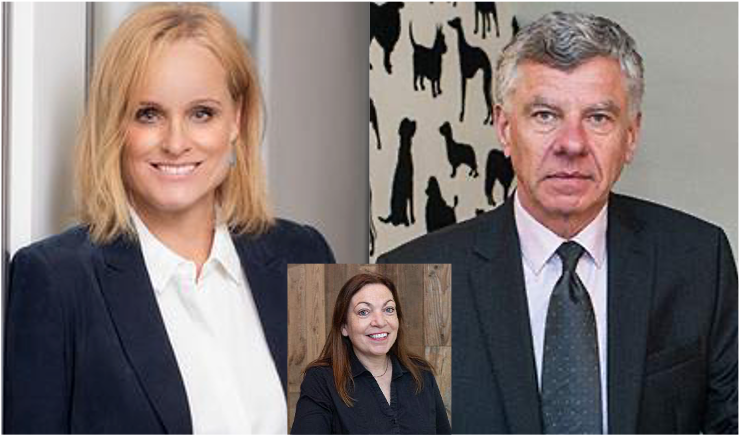 We are extremely fortunate to have Richard Eyre who has been CEO of Capital Radio, itv and Pearson Television. For the past 21 years Richard has been Chair of a wide range of companies and industry bodies including the agency group Next 15 plc, the Eden Project, the IAB and the Media Trust. He has also served as a NED and an advisor to the government, Ofcom, The Guardian Media Group and Grant Thornton.
We will also be joined by Alison Wotherspoon who has 25 years experience searching for NEDs and Chairs as well as CEOs and Executive leaders. She is currently part of the Board Practice at Russell Reynolds, one of the largest and busiest Board Practices in London. Alison has also worked at the Lygon Group and the Zygos Partnership in London and Spencer Stuart in Australia
Richard and Alison will talk the diversity of thought that boards are looking for today and answer your questions. This event will be chaired by Roisin Donnelly.
The event will be held on Thursday 16th of June 2022 from 12.15 until 1:30 pm and will be held as a video conference.
Key Insights from the event:
What are boards looking for (D&I Focus) – Richard Eyre and Alison Wotherspoon
Diversity on boards is key because it is getting harder and more complex to win in the market, therefore, it is critical that CEO's get out of their echo chambers, (often as an exec team you work together closely and get group think)
We need to think about diversity in a more complex way than ethnicity, it is about having people from different backgrounds around the table
We need a range of NED's who think, frame an issu , land a point, angle an issue in different ways
Things that make a diverse board room:
1) Background- Range of backgrounds with people that provide good challenges , strongly held , backed up by experience.
2) Risk appetite – Risk is at the heart of pretty much every decision., and there will be a spectrum of risk takers to those who are risk averse.
Richard shared the excellent example of the Eden project – this project was a huge risk, multi million £ investment, located down winding country roads , middle of a flood plain, future eco theme – it would never have happened if there were only risk averse accountants in the room.
Take time to understand your risk profile – Do you see opportunity (Let's do it) or risk (How do we pay for it?)
3) Confidence – Your confidence in the board room – do not be under-prepared , don't be afraid to use 'I feel' , instincts are distinctive. Do not just ask a placeholder question
Be genuinely excited about the business and let this come across
Choosing/ landing a board
Don't choose a board because it looks good on your CV but because of what you can contribute to that board and how much you would enjoy it
Make sure you ask the question- What is it about me that you are interested in? Or think that I can contribute to the board?
People buy people , so make sure you are yourself ,have a sense of humour , are someone you look forward to seeing
Remember that you are interviewing the company too
Why are marketers special in the boardroom? Everyone has customers and marketing people understand how to engage customers and fight hard to put them at the heart of business strategy
Time to think- Avoid being busy all of the time , do not be a deadline junkee!
NED's are lucky they are not busy all of the time, they have time to reflect, think and read. Make sure you provide new stimulus , use the time to research the market , think about the contribution that you uniquely bring, what lights you up and bring it !
Speaker Biographies
Richard Eyre CBE
After a shaky start as a TV airtime buyer in 1975, Richard Eyre spent 16 years in advertising, becoming Media Director of BBH. He has been Chief Executive of three companies – Capital Radio, ITV and TV Producer, Freemantle before becoming Director of Content and Strategy at RTL plc, then, the largest commercial broadcaster in Europe.
Since 2001 he has held an eclectic range of non-executive roles, among them RDF, Guardian Media Group, Grant Thornton and a bunch of start-ups. He has chaired the Eden Project, quoted communications group Next15 plc and the Media Trust. He is currently Chairman of the Internet Advertising Bureau and continues in an advisory role and as Chairman of Beyond for Next 15.
He has founded a social search company, two radio stations, written one novel and a batch of short stories. He skied to the North Pole in 2004 and the South Pole in 2013.
In 2013, he was awarded the highest honour of Britain's marketing communications industry, The Mackintosh Medal for outstanding personal and public service to advertising. In the Queen's 2014 New Year's Honours List he was awarded a CBE for services to media and advertising.
He is married with two kids and five grandchildren. They are the real achievements.
Alison Wotherspoon – Russel Reynolds
Alison advises companies on key appointments to shape their future. Based in London, she advises on board appointments to listed, private, and family-owned firms. Alison has more than 25 years' experience identifying and recruiting leading executives to serve on boards and executive committees. She conducts a broad range of CEO, chair and Non-Executive Director assignments.
Alison first joined Russell Reynolds Associates' board practice in London in 2010, having spent eight years with Spencer Stuart in Sydney and London focused on international appointments in consumer-facing multinationals. She has also worked with the Zygos Partnership and Lygon Group, two board specialist firms in London.
Alison received her BA (Honours) in English Literature and Linguistics from the University of Manchester.