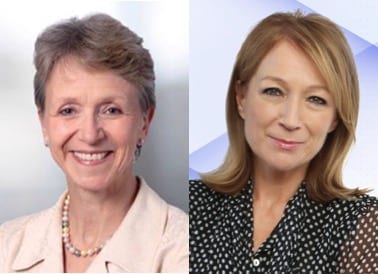 The format of the NED Interest group events are members-only interactive lunches or breakfast for 10 to 15 WACLers where one or two panellists (WACL or external) are invited to offer their reflections on how to be an effective Non-Executive Director / Trustee, share tips how they approached these roles and the challenges they have faced securing these appointments in the first place. These events are 90 minutes long and are held in a central London location hosted by a WACL member.
Our next NED event will be held on Wednesday 30th of April 2014 from 8:30am to 10:00am at Google, at 1-13 St Giles High Street, London WC2H 8AG (nearest tube – Tottenham Court Road) )​​.
Speaker Biographies
Rita Clifton
WACL President 97/98. Rita graduated from Cambridge and began her career in advertising. She worked at Saatchi & Saatchi for 12 years, becoming Vice Chairman and Executive Planning Director in 1995.
In 1997 she joined Interbrand, the world's leading brand consultancy, as Chief Executive in London; in January 2002 she became Chairman. She is in demand as a speaker and media commentator on all areas of brands, reputation, marketing and communications around the world. Her writing has included the book 'The Future of Brands', and The Economist book 'Brands and Branding'.
She is a non-executive director of DSG International plc (formerly Dixons Store Group plc), and also chairs Populus, the opinion pollster to The Times. She has been a member of the Government's Sustainable Development Commission and is on the Assurance and Advisory Board for BP's carbon-offset programme 'targetneutral'. In 2006, she was appointed Visiting Professor at Henley Business School, and a trustee of WWF (Worldwide Fund for Nature) in 2007. Most recently, she has been appointed President of the Market Research Society. Last, but certainly not least, Rita has two teenage daughters.
Dame Helen Alexander
Dame Helen Alexander is chairman of UBM plc, the Port of London Authority (PLA) and Incisive Media. She is also deputy chairman of esure Group Holdings, a non-executive director of Rolls-Royce Group plc, and senior adviser to Bain Capital. Dame Helen was president of the Confederation of British Industry (CBI) until June 2011.
Helen Alexander began her career in publishing at Faber & Faber, before moving to the Economist Group in 1985. She was managing director of the Economist Intelligence Unit from 1993 – 1997 and Chief Executive of the organisation until 2008, when she stepped down and became the first woman president of the CBI, Britain's leading trade body.
She is Chancellor of the University of Southampton and is currently involved with other not-for-profit organisations in media, the internet, the arts and education, through the trustees at Thomson-Reuters, the WorldWide Web Foundation, the Grand Palais in Paris, the Said Business School in Oxford and St Paul's Girls' School.
Key insights from this session
Rita Clifton
The first NED is definitely the passport to others as a Chairman you're looking for two key things;
Do they have the relevant background and experience?
Will they look good on the board in terms of their profile reflecting positively on the board as a whole?-
And what else….?
Boards can buy in marketing expertise- you need to be running something meaningful and respected to compete with other candidates
Rita got called the moment she became a CEO (and being female definitely helped)
When asked a previous Chairman what qualities he was looking for in a Board member he said-
No crooks, no cronies no cowards !- she interpreted that as key attributes of Integrity, independent and insightful
Boards want T SHAPED PEOPLE- those who have narrower but deep practical experience in certain areas combined with a broad (T) understanding of business and governance.
Her advice to get started?
Important to take on an NED role when you're at your eye popping "busiest" – you think you can't cope but you will somehow and it's when you're most in demand for your initial appointment.
Her first appointment was Dixon's retail and it her previous experience with Dixons was invaluable look for NESD that play to area strengths or personal interests.
Make sure you are on the radar of the right head-hunters; they're invariably pretty lazy and unimaginative, so keep your CV up to date and keep connected with them.
If you don't currently have a high profile role- try to be in charge or important of something, show that you can run a business, or a board and have had P&L responsibility.
Women already on boards will get approached for other roles so keep in contact with them so they can recommend you for those roles they don't want themselves- head-hunters are always looking for alternative suggestions.
Being an effective non-executive?
She believes leaning out is important- sit back and take time to consider the issues and give considered comment (don't just be challenging) Rita gave the example of a NED who couldn't understand why the CEO of the company just would do what he "advised " him to do- he wanted to be too dictatorial rather than supportive and helpful.
"Perhaps it would be interesting to look at"…. Rather than "why don't you do this…"
Hardest NED jobs are on remuneration committees- "everyone hates you
When being interviewed for a NED role?
Important that you organise the conversation, be grown up it should be adult to adult as you're interviewing them as well as the other way round. Don't take rejection personally, they're looking for a set of skills some of which you may not have or a background you haven't got.
One thing she wishes she'd known?
I wish I'd done a finance course, a technical one so I could more easily understand and grasp the language of CFO's and understand all the balance sheet info with more ease. I wish I had been educated earlier in technical financial language as it relates to shareholders and capital markets.
Dame Helen Alexander
Still at the economist when she got a call, out of the blue, to be on the board of Northern foods, she met with the Chairman and HR director and went on the board in 1993, after which "the rest just happened". What she like abut Northern Foods was that it was a business she could understand?
Had to stop the Chairman being CEO and then help him step down "elegantly"
Head non exec got everyone together; they agreed a plan and recognised that the Chairman would try to pick them off one at a time! Which he tried to do but it didn't work as they kept to the plan.
When you get to 10 years it's time to think about what you do next- should move on. The time to have the conversation is at the beginning when there is no pressure.
Useful for aspiring NEDS to be on a charity or smaller board with people who are on other boards- they know what you can do as they've seen you in action, a good way to overcome the problem of not having a high profile position- find people who can vouch for you or champion you with Chairman or head-hunters.
Important to understand on any board where you fit and what you're there to do? What is your brief?
What does a Chairman look for?
Some Chairs are looking for overlap (of skills) between NED's so get a debate going in the room
They will want to feel that their new female NED "brings them legitimacy" as well as entrepreneurial skills.
Head-hunters don't want to take risks- they won't take a chance on someone they don't know, so it's important to help them know you, either directly or through a third party.
Avoid being too overtly chasing or lobbying, make people want to buy you rather than overwhelm them with a hard sell.
What's the one thing I would tell you?
Lean in carefully and have perseverance. If in two years' time you have a position, you've done well as there aren't endless roles out there.
Female language in board room- avoid the " I'm sorry but…." Prove you can play the game by your confidence.