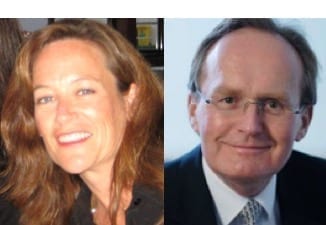 Dear all
For our next WACL NED event we will be covering a fascinating topic that has little coverage in the media but keeps many aspiring and existing NEDs awake at night which is 'What if it goes wrong on your watch' and in particular focusing on how to read the signals that something going wrong in the business before the crisis, what to do when the board needs to face the crisis and how to recover your personal brand when you come out the other end of such an experience.
We are very fortunate to have two incredibly generous speakers to come and share their analysis, their points of view and experiences on this matter. Patty Dimond, author of 'Driven to the Brink' and Alan McWalter, successful Portfolio NED. Speaker Biographies are below
The lunch event is Kindly hosted by the gorgeous Jess Burley at M/Six agency , on the 24 April 2018 between 12:15 and 14:00. The agency is located on  5 Rathbone Street, London, W1T 1NB  (closest Tube stations : Tottenham Court Road)
A light lunch will be provided
This is a members-only event and free of charge, capacity for the room is 20 people so please let Francesca know soonest on Francesca@ecsery.com if you would like us to reserve you a seat.
Speaker Biographies
Alan McWalter
Alan is Chairman of Churchill China plc, Belfield Group and Newmarket Travel. He is also a Non Executive Director of SDL plc. He has held Chairmanship and Non Executive roles with numerous quoted and private companies. He was an Executive Director of Marks & Spencer and Kingfisher Group companies and in his earlier career he held both marketing and general management appointments with Thomson Consumer Electronics, Spillers Foods and Unilever. He is a Fellow and past Chairman of the Marketing Society and a Freeman of the City of London.
Patty Dimond
Patty is an NED of the English National Opera, chair of its Audit and Risk committee and sits on the WDB of the MicroLoan Foundation.  She co-authored Driven to the Brink, a book about Corporate disasters and why Board leadership, Governance and Culture matter. She is a managing LP and lead investor of Rising Tide Europe, investing in Early Stage tech Ventures across Europe and a panelist for the EU's SME Horizon 2020 initiative.  Patty has had an International career focussed on restructuring and transformation in consumer markets:  UK, Switzerland, Canada, US, split between client service and C-level operating roles, most recently as the Chief Operating Officer of a €2bn operator of Luxury Retail Villages. Patty is a McKinsey, alumnae London working with Retail and Financial Services and was a member of its corporate finance practice. She is a chartered accountant qualifying with Deloitte and a CFA charter holder.  She has an MBA from IMD, Switzerland.
Key insights from this session
WACL NED Group Speaker Session 24 April 2018
"What If It Goes Wrong on Your Watch?"
We are very grateful to our speakers:
Patty Dimond, author of 'Driven to the Brink' and
Alan McWalter, Portfolio Chair and NED
for their insights, contributions and words of advice and wisdom.
With grateful thanks to Jess Burleyfor hosting the event and to Francesca Ecsery for chairing the discussion.
Here are some of the key insights from the session:
'Businesses Don't Fail – Boards and Leadership Teams Do'
· P Dimond research shows major themes arising out of research into what distinguishes successful boards from those where things go wrong. In the latter, there tends to be
Inadequate Board oversight(lack of independence, objectivity, ability to constructively challenge);
flawed culture(few universal values – eg trustworthiness, respect for customers and others, responsible for action and inaction) and
a relaxed approach to risk management.
· What were the common elements of failing businesses?
Chasing growth;
forceful or dominant CEO(often the ones that can deliver but dominant CEOS tend to surround themselves with compliant or complacent Boards);
constitution of the Board– weak companies typically show much diversity but little experience;
lack of customer understanding;
Lack of respect for or understanding of risk.
· Tip: Being on a Board as an NED is like the ultimate team sport – in selecting your role as an NED, you need to ask 'Is this the team I want to be in?' 'Do I have complementary skills?'
· If faced with a crisis or when things appear to be going wrong:
Stop and think things through. Always do the right thing and be independent.;
ask yourself 'Who do I trust'?(It can be of great value to have a small group where you challenge and test each other and decide how to divide the work that needs to be done);
In extreme situations and periods of stress, always carry all key documents and contact details for key colleagues with you 24 hours a day, as things can move very rapidly;
Document everything as it happens, and keep notes of meetings – double check minutes to be sure that what is minuted actually happened;
Be your own person and make sure you can justify your position (this extends to audit opinions on company financial performance – in one particular case discussed at the session, several audit firms had 'signed off' the numbers before the difficulties were uncovered);
Do your due diligence before you join a board. Test the culture. Talk to people – what are they really like. There is no 'right' way to do this – go where your instinct takes you – no 'tick box' approach will work on its own;
Don't believe anything until you are sure it is right;
 Ask questions, don't tell (in the case where the space shuttle came down:"either someone knew something and didn't do anything in which case they are culpable; or they didn't know in which case they are culpable";
Use your eyes and ears and your intuition. Listen to what is said and not said. Look for inconsistency; spot over dominant individuals, especially the CEO.
· Senior Independent Director role can be a very healthy role even for entrepreneurial businesses
· Check your organisation's D&O insurance – that it exists, is kept up to date and that it is at the correct level.