Peer Mentoring (S10) Connect, share and problem solve with WACL women
May 6, 2022 @ 12:45 pm

-

2:00 pm

Free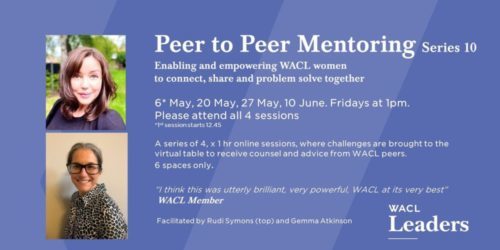 Enabling and empowering WACL women to connect, share and problem solve together over 4 sessions. Please attend all 4 sessions.
Peer Mentoring Season 10
We are continuing to roll out Peer to Peer mentoring across the club.
6 delegate Spaces Only.
The program consists of 4 x 1 hour online sessions, taking place fortnightly, with each cohort set at only 5-6 participants. Please commit to all 4 sessions. (1 week gap on this series between sessions 2 and 3 to avoid the Jubilee)
'This is quite simply the best of WACL – generous and smart. It's unlike anything I've done before' WACL member
We all know that the wonder of WACL comes from the wisdom of women of WACL, but it can be hard to ask for advice especially from women we don't know that well. Peer Mentoring is an initiative designed to enable and empower WACL women to connect, share and problem solve with other WACL women in small expert groups facilitated by a trained WACL Coach and a supportive WACL wing women.
In each session personal challenges are brought to the virtual table in order to receive counsel and advice from WACL peers, helping to reframe, focus and ultimately solve the issue.
The sessions provide a confidential, non-competitive, non-judgemental environment where participants can express themselves honestly and benefit from the advice and insights of a small group of peers, while at the same time increasing their own ability to mentor others.
It also provides a platform for WACL-ers to get to know different people in the club in a personal and meaningful way. Many friendships have been built and endured already.
The numbers are deliberately small to provide an intimate experience of support, sharing and getting to know each other over the four sessions.
"I would highly recommend it to any other member of WACL. I would say that it is one of the most generous experiences of the Club I have ever had. Generous from the point of view that I received unstinting, unbiased and supportive advice from some of most impressive women in our business, and was able to give back in return, which was very satisfying indeed"
"Peer Mentoring is an amazing platform for when you need the input of people who understands the dynamics of our sector, and can provide a unbiased, clear-eyed and supportive point of view. I can honestly say it is one of the most useful things I have done for myself in many years".
What to expect:
Group work together over the 4 sessions. Sharing, learning and getting to know each other.
For this series, you will be facilitated by experienced Coaches, Rudi Symons and Gemma Atkinson.
We will send calendar appointments once booked to ensure the time is held in your diaries.
Rudi
I am an organisational culture and inclusion specialist and executive coach. My purpose is to help leaders build working communities that create growth and joy. My experience proves when people are free to be authentic, in a community that honours individuality, incredible energy is created – this is when extraordinary work becomes possible.
I draw on my experience within executive roles in some of the world's most successful organisations, such as Global Head of Culture at GroupM, WPP (35,000 people across 80 countries) and previously, the same role within Zenith Media, Publicis Groupe. I am grateful for the opportunities I've had to facilitate world-class group coaching events globally: in APAC, EMEA and North America. I am proud to have co-founded the award-winning Walk the Talk inclusion movement, which has now benefitted over 3,000+ senior leaders across four regions in the WPP network, earning a reputation within the industry for being the most effective program of its kind.
Gemma
Having held MD, Commercial and Client facing roles I am now COO of the International Division at Active International. I spent most of my time on strategy, product and people. I am a true believe that great companies are built by great teams, and investing in people and culture is where I love to spend my time. In order to develop my skills in this area I am an Accredited Executive Coach, NLP Practitioner, and very happy to get stuck in to personality assessment and psychometrics. Alongside coaching I am committed to mentoring, and have played an active role in our industry and had the opportunity to meet some amazing individuals. As Dolly Parton says, 'find out who you are and do it on purpose'.