"Great partnerships are based on love" were the words shared by Sandi. I can't think of a better description of what we try to do at WACL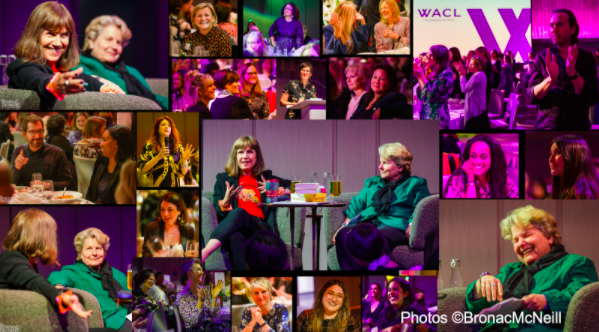 There is no doubt that gathering together under the same roof still has WACL members and their guests buzzing with the joy and novelty of being with one another in person. This time it was at The Londoner Hotel on 1st February, where the surprise of finding the loo seats were heated rippled through the room and added to the sense of childish delight in every real-life experience.
Our guest speakers were Sandi Toksvig and Catherine Mayer, founders of the Women's Equality Party, who symbolically fell into conversation over two beers. Just as they had when they sat together after a Women of the World Festival in 2015 inspired Catherine to say to everyone assembled 'What about if I found a Women's Equality Party, tell you what, I'm going to go to the bar afterwards, anyone interested in discussing this come and see me'. She described half the people at conference following her to the bar, after which she rang her great friend Sandi to get her to help co-found the party.
From the beginning they wanted to do things differently. They didn't demand loyalty and were content for the people who joined to belong to any other party as well. Their policies were designed to be stolen and implemented by anyone who found them compelling. It simply mattered that something was done to change things for the better. An incredulous Sandi told a story about 'a wealthy man who shall remain nameless' flirting with Catherine over dinner and offering to significant cash in return for 'Women' being dropped from the party name. It was an early lesson in principles before money.
As you would expect with a comedian at the helm there is a desire to point out the ridiculous in a memorable way. 'You can now get 10 years in prison for defacing a statue and only 5 years for abusing a woman' and 'an MP can be sanctioned for the misuse of stationery but not the sexual harassment of staff' rolled easily off Sandi's tongue. What Sandi and Catherine urged from WACL and everyone else in the room was action. 'Everyone has the power to change something. You are all beautiful, fruity orchards of change'.
These words from Nadya Powell summed up how many WACL-ers we spoke to felt: "The dinner with Sandi and Catherine dinner was everything. Two brilliant women talking about how they try to change the world with humility, passion and humour. "Great partnerships are based on love" were the words shared by Sandi. I can't think of a better description of what we try to do at WACL through supporting each other and campaigning for change. Always with love. Keep these dinners coming!"