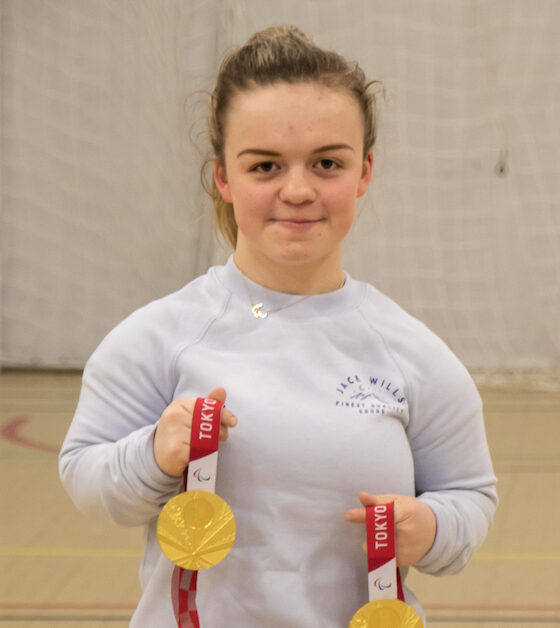 Maisie Summers-Newton, MBE
A statement from. Maisie Summers-Newton, Paralympian, MBE in support of WACL
I'm thrilled to be involved with WACL's 100 year anniversary celebrations. As a Paralympian and advocate for greater visibility for underrepresented groups in media and sport, I am honoured to bring my unique perspective to their work to accelerate gender equality in the advertising and communications industries.

Swimming has always been my passion, but I also feel equally passionately for all women in sport to be equally represented and authentically portrayed in the media, an area where there has been a historical male bias and stereotypes abounding when it comes to women and disabled women in particular. Advertising and communications in recent years have made great progress in this space, such as We the 15 for the International Paralympic Committee and Channel 4's Superhumans – and hats off to my role model and one of the few female sportswomen in the public eye similar to me Ellie Simmonds flying the flag on Strictly – but there is still much work to be done.

As well as my swimming training, I'm also training to be a primary school teacher. I want to teach all children that they can achieve their dreams and ensure there are no barriers in society – especially for girls – to do so. I am looking forward to working with WACL and their amazing members, who like me, want to be role models for young women so they can excel in their chosen fields with the right inspiration and support through their many initiatives.

I had an amazing award winning year in 2022 and was incredibly proud to receive an MBE for services to swimming. In 2023, I want to do more, which is why I am so proud to be a WACL 100 patron. It looks to be a great year celebrating what women have already achieved in the last 100 years and inspiring a new generation.
Biography
Born and raised in Wollaston, Northamptonshire, Maisie Summers-Newton is a local hero, national star, world record holder and touted by many as the future of Paralympic sport, even though she is still in her teenage years. The epitome of an overnight success born out of a lifetime of hard work and dedication, Maisie cemented herself in history at the Tokyo 2020 Paralympic Games where she became a double Paralympic Champion, delivering gold medals in both the 200m medley and the 100m breaststroke. For those that have been following Maisie's journey, the Paralympics in Tokyo were not the start of her successes and they will certainly not be the last of them.
Competing in the S6 class; a class that includes swimmers with short stature or amputations of both arms, or moderate co-ordination problems on one side of their body as Maisie was born with achondroplasia; a condition that affects how bones develop, Maisie was inspired to take up swimming after watching the London 2012 Paralympics. She never thought that just a few years later, she is already creating her own legacy in the sport.
Having broken the world record in the 100m breaststroke in May 2018 at just 15 years of age, Maisie went on to win the a gold medal in the 200m medley at the Para Swimming European Championships later that year. She was ultimately shortlisted for the prestigious BBC Young Sports Personality of the Year award. In 2019, Maisie backed up that success with another gold medal in the 200IM at the World Para Swimming Championships in London in front of a home crowd, laying the foundations for what was ultimately a superb 2021.
Alongside swimming, Maisie is pursuing a career in teaching and is currently enrolled on a teacher training course near her hometown of Wollaston. At such a young age Maisie is just getting started and we can't wait to see where this young ladies' abilities take her.