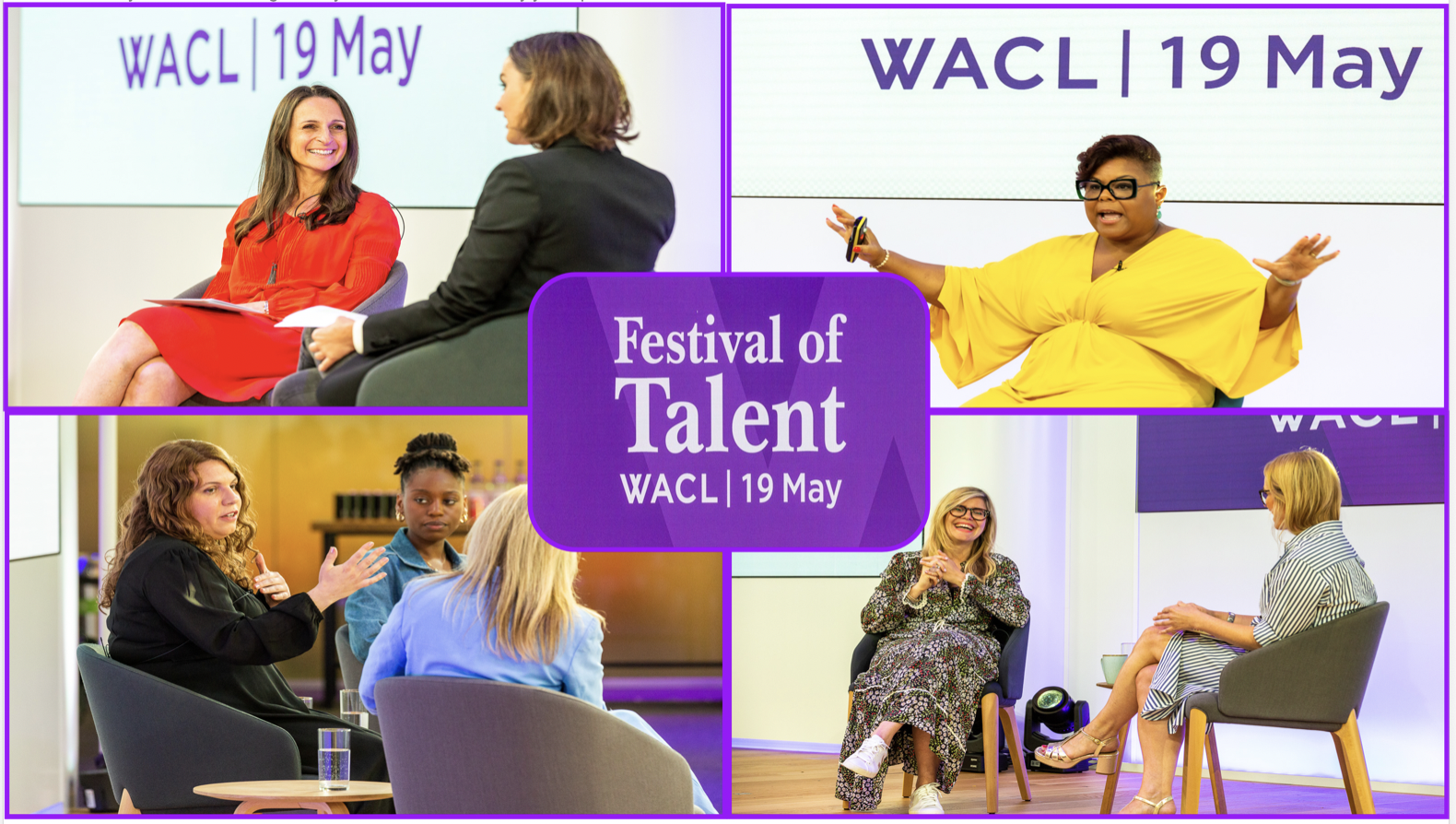 Reflections on a magical day. Festival of Talent 2022
By Liz Wilson, Chair WACL Festival of Talent, Accenture Song.
"The Change you want to see is the leadership you need"
Festival of Talent is always a very special day in the WACL year – our biggest training event and a huge fundraiser that supports many other important WACL activities – but this year was one of my favourites and a privilege to Chair. Yes you may well detect a hint of bias, but there were a few things Larissa Vince, co-Chair and I together with the whole committee were particularly proud of.
Firstly this year we were thrilled to reach a thousand women for the first time. We debated physical event space a lot but the benefits of digital, in terms of the number of women we can reach, won out and that reach is especially important in ensuring that the event is maximising its impact on achieving our purpose of accelerating gender equality in the industry. Secondly we were delighted that some of those women joined us through our 'pay it forward' scheme which we piloted for a second year and which we hope to extend next year, allowing us to include women who might not otherwise be able to attend. Thirdly, we were proud to have seven different WACL members on the platform during the day, to give a sense of the Club, which we hope will encourage Festival attendees to participate in other WACL activities like the Talent Awards, the Talent Sessions and mentoring, and ultimately to want to join the Club themselves too!
Our theme was 'next generation leadership', carefully crafted by Nikki Crumpton our committee CSO and turned into a series of inspirational and educational speakers by Sarah Jenkins our speaker strategist.
Starting the day with Dr Ed Brooks of the Oxford Character Project, our favourite quotation from Ed was 'The change you want to see is the leadership you need' and we all reflected on how to move from a world of quick wins to a world of long term value as we heard from
Debbie Klein and Alex Mahon, both renowned WACLers on their personal experience of authentic leadership
Madeline McQueen, in our perennially popular, live coaching session, on finding our personal style and purpose through clarity, confidence and empowerment
Blessing Omakwu, joining us live from the USA to share the incredible impact she's had on the world and how her own personal journey has influenced her.
Katie Langdon and Kelliesha White two of this year's WACL Talent Award Winners accompanied by Nicki Hare from OMG, the Chair of 2022's Talent Awards (the scheme is for women looking to enhance their leadership skills and offers training grants of around £3000 per person, funded partly by the Festival of Talent).
And finally Emma Barnett interviewed by Jo Arden, another high profile WACLer, in a magical conversation that will go down in Festival of Talent history.
Throughout the day we enjoyed people with big ideas about how to lead, people with personal stories about how they lead and one amazing coach to help us work out how we want to lead with the next generation in mind.
It was a wonderful day thanks to our devoted Committee of busy WACLers, to our sponsors without whom the Festival simply wouldn't be possible, to our generous supporters at Sky and WRG who ensured a seamless production and to all of the brilliant women who attended and participated so fully.
Larissa Vince, CEO of TBWA takes the Chair for Festival of Talent 2023, our centenary year. It's going to be an extra special one so I hope to see you there.