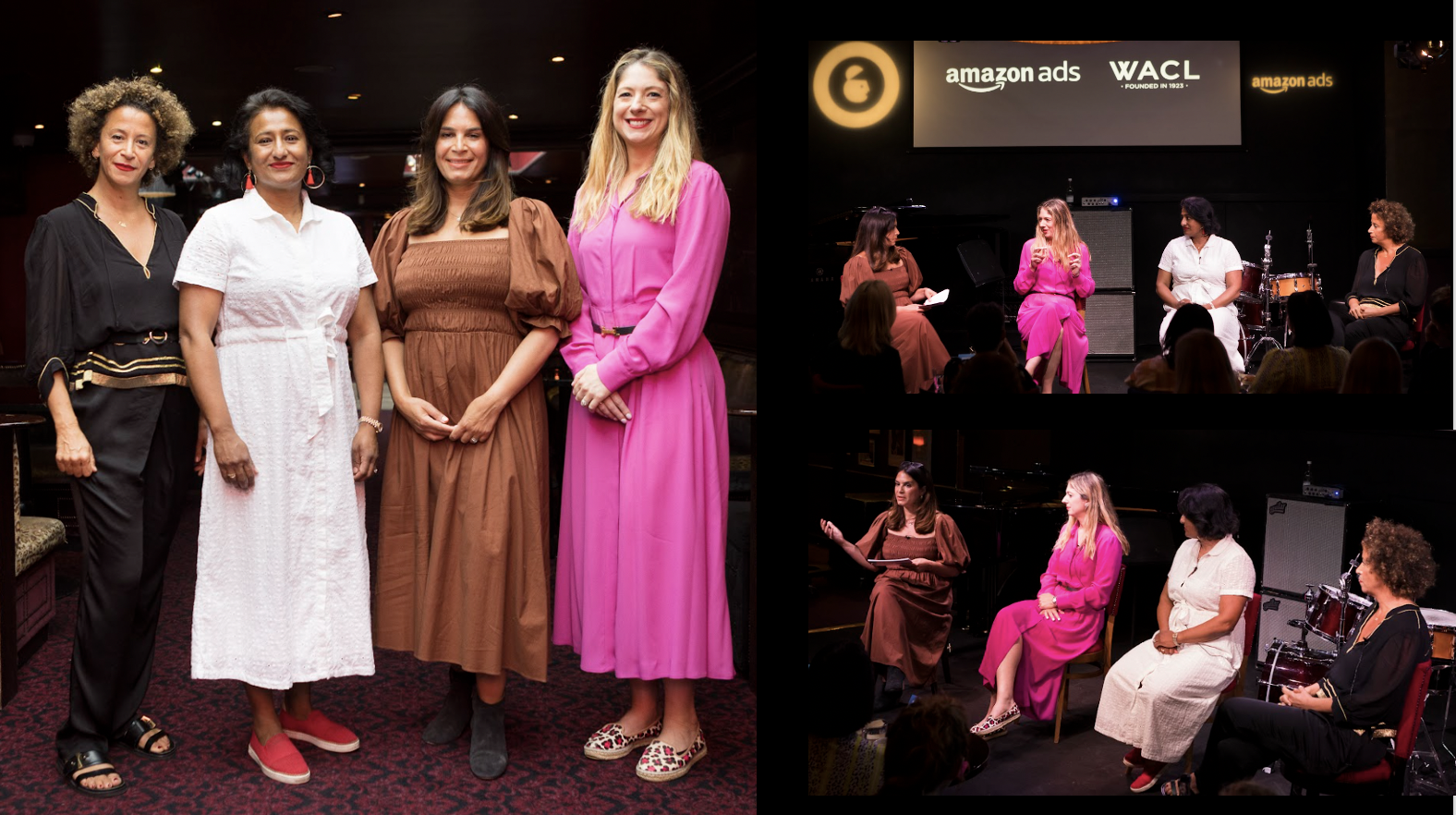 WACL teams up with Amazon Ads to stage panel discussion about the state of women and work
The pandemic was a turning point in the lives of women. They experienced greater unemployment than men and were left shouldering a huge share of caring responsibilities at home. But the era of lockdowns also breathed new life into the idea of flexible working and transformed social attitudes to the work/life balance. The post-pandemic world looks likely to be far more female-friendly than anything that went before.
To discuss the pandemic's impact on women's lives, WACL teamed up with Amazon Ads to bring together four senior women from the media and communications industry at an Advertising Week Europe session entitled: "Pivot Point: The State of Women and Work."
Rania Robinson, chief executive of ad agency Quiet Storm and next year's WACL president, shared a panel with WACL member and Sainsbury's director of brand communications and creative Radha Davies and Amazon Ads head of retail and hospitality Laura Belchier. The session was chaired by Deborah Joseph, European editorial director for Glamour magazine.
Staged at Ronnie Scott's club in London's Soho, the session was attended by around 150 members of the marketing, media and creative community.
Pivotal changes in the journey to gender equality occurred during the pandemic years of 2020 and 2021. Many women experienced a great deal of stress during that period with extra caring duties and for some, losing their jobs, and for others, the need to work from home. However, a positive outcome of the lockdowns has been that workplace flexibility, once an issue employers would nod about politely but do little to promote, is widely practised today.
Rania Robinson told the session that, since the pandemic, "employers can't argue with flexible working any more." Staff are demanding to work from home and to arrange their working and domestic lives as best suits them. Rania acknowledged that some employers are still insisting staff work from the office five days a week, but said employees can "easily build a case for flexible working where they couldn't in the past."
WACL is promoting flexible working with toolkits and frameworks that can be downloaded from its website. These give staff the tools they need to ask for more flexible working from their employers. "Things are different now, you can't put the genie back in the bottle. That has probably been the best thing to come out of all of this," she added.
The panellists shared stories about the difficulties of lockdown life and combining work with caring for children. They warned that home working could end up eating into people's family lives as they get caught up in video conferencing calls all day long.
But a positive effect has been that men have often become more involved in bringing up children and adopting a work/life balance. Radha Davies says she has seen a massive shift in responsibility on the part of men, who are increasingly attending school plays, driving their kids to parties and taking home responsibilities more seriously.
Meanwhile, she said the Teams and Zoom boom of the pandemic era has led to a greater understanding and empathy about other people's lives.
"The authenticity that has come from people seeing into your world at home has meant that we are able to have much more honest conversations about our lives, our needs and what works for us and what doesn't." This has changed relations between employers and employees, making it less of a parent/child relationship and more adult. "Being open about your requirements has been really brilliant at unlocking good solutions for people," she said.
Laura Belchier said it will be vital for flexible working to be open to all, not just mothers. "The silver lining out of all of this is the extra flexibility, but it can't just be the women who are asking for it or taking it, we have got to encourage staff of any age or gender to think about it so flexibility is not just contingent on having children or caring for someone."
Meanwhile, the pandemic has led many business leaders, both male and female, to become more empathetic towards staff, following the difficulties many employees and customers faced during lockdown.
As Rania said: "The recognition of the need for a more empathetic leadership approach has put female leaders – who tend to over index on this quality – more in the spotlight. One upside of the pandemic is that it has given us all an opportunity to rethink how we define good leadership qualities"
Another effect of the pandemic is that people are now far more willing to talk about mental health issues such as depression, anxiety and stress. Staff will take time out if they feel anxious and take a walk or do some yoga. Such approaches were frowned upon before the pandemic.
The panel agreed that an empathetic, flexible attitude by employers was now becoming essential to retain younger staff who often have very different values from senior managers.
As Deborah said: "My youngest team look at me and think 'I don't want your life," and she added: "They want a better work-life balance, they want more from their employers and there's often a disconnect between what they are offered and what they expect."
Given staff shortages, businesses that can offer a better work life balance and allow flexible working will be more attractive to GenZ and Millennials, who are choosy about the lifestyles they wish to pursue.
While the pandemic took its toll on women, the future world of work will have to become more flexible and sensitive to the needs of all employees if companies are to recruit and retain the talent they desire.