"If I can tell you one NED Thing"? Whether you are interested in listed, unlisted or not for profit organisations, there are some top tips to ensure you have a strong action plan to achieve your goal. In response to popular demand, this session will provide hands on practical advice to ensure you are considering and optimising every step!
We are extremely fortunate to have highly experienced WACL members, who have a wide breadth of experience across many different boards including Admiral, Water Babies, Newsworks, Safestore, Tesco Bank and many more. They will join us to share their breadth of experience in helping you to unlock that first NED role. We will bring to life each of the key stepping stones, along with helpful hints on how to approach them. Speakers include fellow WACLers Lindsey Clay, Gill Huber, Pippa Glucklich, Debbie Klein and Amanda Mackenzie.
The event will be held on Monday 14th of March 2022 from 12.15 until 1:30 pm and will be held as a video conference.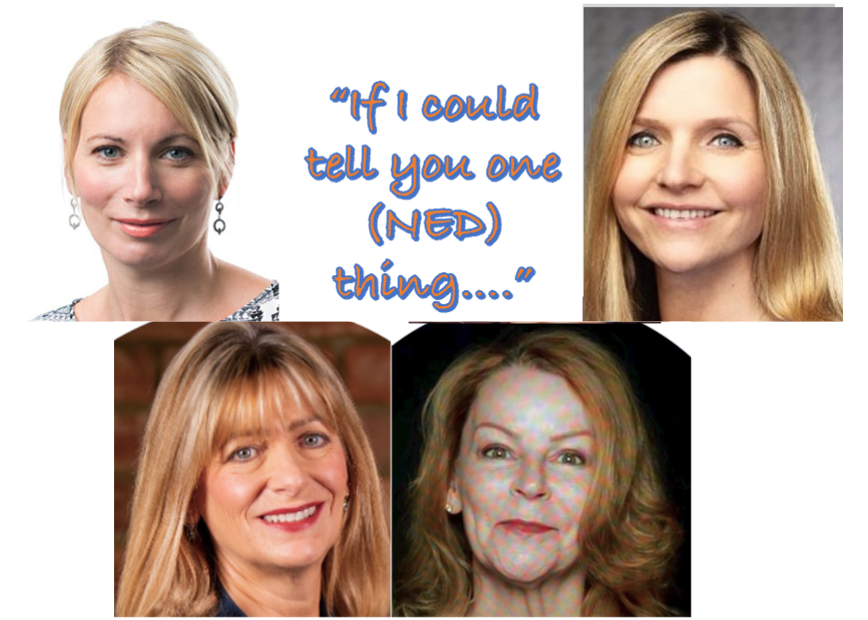 Key insights from the speakers:
Gill:
Be sure to Pick the right role for you…
WHY
long term commitment
Big time commitment ( not just normal but also the abnormal)
Big Responsibilities and there is risk
HOW 
What value can you bring to the board
What will you get from it
What company will you keep (who is on the board with you – can you learn , inspire, culture, different background from you)
Big/long time commitment
Esp in a crisis (pandemic, m&a, crisis, Olympics! Etc)
Can add to your day job but it's time you might not have
What will you get from it
What value can you add
What company will you keep (people you admire, like, learn from)
Do your due diligence – and think about the risks
Will you enjoy it?
Then bring that to the interview & shine ✨
Amanda
When you arrive on the board there may well be things that you feel ill qualified to talk about (most likely to do with the balance sheet ) never forgot you have been appointed for the skills and diversity of thinking that you have. And that will also help the chairman make the whole board work well if you are comfy with that.
Pippa:
In my experience, the old adage of 'you have 2 ears and one mouth for a reason, use them in that order' is never more true in business than when you're a NED. Learning to listen well, to read the room, to hear all voices (especially that of the customer), so you can make the most relevant, effective, timely and sometimes tricky points is a NED super power.
However good a listener you are learning new skill,
Sheer challenging coach
Lindsey
If an exec role is a marathon rather than a sprint,
Then a NED role is a series of sprints
(Or it's like Hiit training or Fartlek)
The advice will be more in the area of how to get the best out of it when you're doing it rather than how to approach getting a NED in the first place one and it's focusing on how to think about it in a different way from an exec role. So it's about the nature of the challenge and how to influence, opportunity to influence, relationships, expertise, what's expected of you, timing etc).