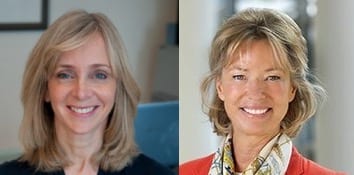 Is your CV Board ready? Your CV reflects your personal brand and is an important part of how recruiters will perceive you. The skill-set required to be a successful NED is different from an Executive Director's skill-set so it makes sense that your NED CV should be different from one you would use to obtain Executive positions. Your NED CV needs to demonstrate that you have the relevant skills and qualities desired to do the job and add value to the board composition.
We are extremely fortunate to have with us for this session two wonderful guest speakers: Laurence Vallaeys – partner at Warren Partners, one of the leading head hunters in the board recruitment arena and Gwendolyn Parkin – Founder and Director of IntegralCareer and Career Consultant at the School of Life, Harvard Business School and St Gallen Business School. Detailed Biographies are enclosed below
This event will be held on Tuesday 12th of March 2019 from 12:15 till 2pm and generously hosted by the lovely Jane Wolfson at the Hearst UK offices in Leicester Square (House of Hearst, 30 Panton Street, London, SW1Y 4AJ). A light lunch will be provided.
Key insights from this session
Our speakers were Laurence Vallaeys, partner at Warren Partners and Gwendolyn Parkin, a career coach from Integral Careers.
Laurence urged us to think about WHAT uniquely we can offer boards, WHY we want to do it and HOW to get a role.
Different roles call for different skills.
FTSE listed companies have high governance focus.
AIM companies and start ups have more opportunity to contribute to business thinking.
Think of your CV as your brand and make it as personal and memorable as possible.
Board needs a "T" shape- deep functional expertise and broad business leadership.
NED is a critical friend and a relationship builder.
The Board is responsible for culture and critical role "the fish rots at the head".
At interview the quality of your questions is critical. You need to be aware of and raise "the elephant in the room".
Tailor your CV to the specific role, highlighting key fit.
73% of NEDs come from networking.
Build your personal brand success.
Always check out the quality of the Chair.
Consider trustee roles to get experience and build network.
Gwendolyn talked about importance of analysis of:
Self – tell the story of your life and find your authentic brand. Identify the career and life content you need to thrive.
Sector analysis
Systems analysis- future of work.
Focus on YOU Inc – increase your value by diversity of experiences.
Professional DNA paragraph in a CV is the most important.
Ask trusted friends for input on your brand to insure it is you.
Top tip:
Laurence: Go for it. Boards need people like WACLers.
Gwendolyn: Analyse your most valuable asset – YOU
Speaker Biographies
Gwendolyn Parkin
Director – IntegralCareer
Gwendolyn Parkin is a Director/MBA Course Lecturer, and Business Consultant who directs IntegralCareer; a pioneering career and organisational consultancy which creates innovative and impactful services for clients to achieve commercial success, career fulfilment and thrive in the Future of Work.
Her methodology combines disciplines including commercial/ business, psychological, neuroscience, and 'The Future of Work'. A key component is the analysis of an individual's work and life experience to understand key skills and competencies and how they can transfer into future work careers. Gwendolyn has developed this approach for over 25 years at IntegralCareer but also in previous roles such as strategy consultant for the Boston Consulting Group and General Manager for People Express Airlines, a start up company which revolutionised the airline industry in the 80s.
Additionally, Gwendolyn is also a VP and Board Member of the HBS London Alumni Club and is responsible for developing career and leadership events for alumni in London and globally. She is Career Lead for the St. Gallen University MBA Programme where she has created and delivers a required course called Career Strategy. As a Course Tutor and Psychotherapist for The School of Life, Gwendolyn designs and delivers the sell-out Career Counselling sessions: and previously taught the pioneering 'Finding a Career That Fits': a 1 day programme.
Gwendolyn has worked with clients on all levels, including CEOs, and has developed partnerships with many organisations including Harvard Business School, The School of Life, St. Gallen University in Switzerland, The Tavistock Consultancy Service and The Institute of Directors. She has an MBA from Harvard Business School, an MA in Psychotherapy from City University/Regents University and is UKCP accredited. She has worked and lived in the UK, Europe, Asia and the US, speaks German and is first generation Amercian, with German and British heritage.
Laurence Vallaeys
Director – Warren Partners
Laurence focuses on senior executive and non-executive roles in the FMCG, retail and leisure sectors and works closely with the rest of the team to strengthen our capability and reach in these sectors. She has more than twenty years' experience in assisting Board and Divisional Boards to identify and recruit senior leadership talent in the UK and internationally. She has a strong understanding of how critical both cultural fit and diversity are to the success of any team and with many business models undergoing significant changes today. Laurence has successfully partnered with diverse clients from multinationals and PLC's to private equity backed, family owned companies and entrepreneurs.
Her track record spans both Executive and Non-Executive placements including CEO's, NED's, European VP's as well as Strategy, Sales, Business Development, Commercial and Marketing Officers. Laurence has a particular interest in challenger brands, owner driven businesses, private equity backed ventures and SME's; where she has a significant track record.
Having started her career in the UK with Whitehead Mann, Laurence worked extensively across the retail sector for over 15 years before joining Odgers Berndtson to set up their European Consumer and Leisure Practice. After nine successful years she then helped launch a CMO practice at a boutique search firm and later joined the Consumer, Retail and Hospitality Practice of a global American search firm as a Partner. Laurence has been with Warren Partners since 2015.
Born and educated in Belgium, France and the UK, Laurence is a graduate of the Institut Marie Haps, Bruxelles and Buckingham University.