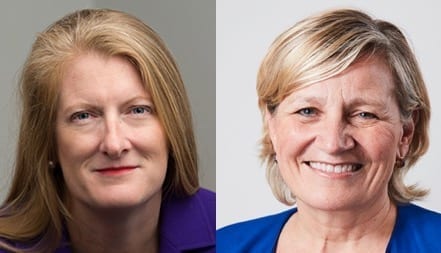 Speaker Biographies
Dame Cilla Snowball
Group CEO & Group Chairman AMV.BBDO
Cilla graduated in French at Birmingham University and joined Allen Brady & Marsh. She moved to Ogilvy and Mather where she enjoyed nine years before joining Abbott Mead Vickers BBDO in 1992. She has worked for AMV for 20 years: in senior management positions for the last 12, rising to agency head and now country head, with overall responsibility for the 6 communications companies that make up the AMV Group. The advertising agency has held the number one position in the UK for 16 years.
In January, 2009 she was awarded the CBE for services to the advertising industry. She is Chair of the Advertising Association and sits on the boards of BBDO Worldwide, Comic Relief and the Women's Business Council. She is a past president of WACL and the MGGB. Most importantly she is Fred, Albert and Rosie's mum.
Kate Grussing
Managing Director Sapphire Partners
Kate, the founder of Sapphire Partners, has worked internationally in senior positions at JPMorgan, McKinsey & Co. and Morgan Stanley. Kate's career and functional expertise is in strategy, corporate finance, talent management, broad-based financial services, professional services and diversity and inclusion. She is a regular commentator on women's careers and advancement in executive and non-executive roles. Kate has an MBA with honours from the Tuck School at Dartmouth, a BA with honours from Wellesley College and has studied at the London School of Economics. She is a trustee of the national medical charity, the Prader-Willi Syndrome Association, and the new London Children's Museum. She is also an active member of the British Association of Women Entrepreneurs.
Key insights from this session
This session was Hosted by Cilla at AMVBBDO on Tuesday the 11th of March 2014
We had two perspectives brought to us for our lunch – Cilla Snowball, Chairman and CEO of AMV BBDO brought a 'practitioner' view and Kate Grussing, Managing Director of Sapphire Partners brought the 'expert recruitment' view.
'A Practitioner's View' by Cilla Snowball
A NED appointment teaches you things you don't know and wouldn't necessarily learn in your "day-job", as well as illuminates things which you didn't realise were strengths for you.
When deciding how/when/which NED is for you, her advice is to first decide:
What do you love? What are you passionate about?
PLC board or not? Especially in a service business like media and advertising, balancing a PLC board can be tricky as there will be occasions where your day job has to come second.
Do you want to be paid for this work?
Top tips:
Whatever time commitment they tell you, double it
NED positions are all about asking the right questions in a supportive way and knowing when to challenge
Be picky and patient to make sure you get the right first one
Do what you love and follow your heart
Never stay longer than 6 years
Unexpected things always lead to opportunity
Register interest with the Chair of an organization you are interested in if you know him/her
Expect challenging feedback
Work out if you have the time
Do your human due diligence – don't go on a board with vile people
Ask yourself not only will you learn, but will you have fun
'The Expert's View' by Kate Grussing
There has never been a better time to be an executive woman looking for board slots, but likewise it's never been more competitive. So be clear what YOU bring.
Top tips:
There is a 9 year hard stop for serving as a NED on a publicly listed company (not so strict on other Boards)
Persevere – Kate knows a woman who was shortlisted 81 times before she landed her first PLC NED
Think about stepping-stones. Seriously consider charity boards. You will learn something and make great connections
However, if you don't have the right (C-level) executive experience, no charity board work will help you land a PLC board
The risks on PLC boards are enormous and the pay is poor – FTSE 250 PLC's pay £30-50k, with only FTSE 100's paying more. Small AIM or Private/Private equity boards pay £30K and under and Public Sector pays £3-7k. You will need Director's insurance regardless and people underestimate how long it takes to make a living from it.
There is a lot of serendipity in appointments – it's a Rubik's cube of skills, style, opportunity, timing, references and experience
Pay attention to your profile and work hard to raise it
You must be numerate – be able to read a balance sheet, etc
Consider getting executive experience on remuneration committees, as the remco is increasingly important for all boards
Kate also suggested that you try and stay "top of mind" for headhunters by sharing any "material" changes to your CV, and finding occasions to stay in touch with a short email. Linkedin is also a very useful tool that all the headhunters now use.
Use your network and tell people whom you know that you are aspiring to be a Board Director and if you were short-listed but didn't get it, still use this positive experience to share with others who may be able to help you.
Finally, update your references, use mentors and all means to ensure that you stay current and top of mind for people.
Typical Journey of NED Recruitment process
Company decides a new NED is to be appointed
A draft job spec will be agreed
A headhunter search will commence
A headhunter will be appointed (not always true for Charity boards)
The Board will be asked for any candidate recommendations
The headhunter does research on candidates
The headhunter delivers a long-list of potential candidates
The headhunter does preliminary interviews/discussions
The headhunter takes informal references
The headhunter agrees a shortlist of candidates with the client
The Chairman interviews the candidates, and they may then also be interviewed by CEO, CFO, SID (Senior Independent Director)
The headhunter synthesizes the feedback
A final candidate is agreed and an offer made
Unsuccessful candidates told and stood down (try and get feedback on why you were unsuccessful)
Any outstanding Board Member meetings may be organized
Formal references will be taken
All regulatory preparation done
If the individual is going onto Audit Committee or this is a Financial Services organization then other meetings will be arranged with Auditors/FCA
The nomination committee of the Board approves the appointment
The appointment is announced.